16 Hands, Ann Arbor
A & G True Value Hardware, Rochester Hills
Able Safe, Pinconning
Ace Hardware & Lumber Co, Eaton Rapids
Achatz Catering, St. Clair
A. F. Auto Glass & Detail, Portage
Affordable Automotive Repair, Gaylord
Allegan True Value Hardware, Allegan
Allendale True Value Hardware, Allendale
Alpena Furniture, Alpena
Alward's Market, Hale
Ann Arbor PTO Thrift Shop, Ann Arbor
Anthony G Michael Inc, Flint
APCO, Inc., Lansing
Art Glass Alcove, Saugatuck
Aunt Candy's Toy Company, Rockford
B & C Hardware Inc, Roscommon
Baldwin Lumber, Baldwin
Ball Park Floral, Grand Rapids
Baron's, Lansing
Battle GR, Grand Rapids
Becky Beauchine Kulka Diamonds & Fine Jewelry Inc, Okemos
Becky Thatcher Designs, Glen Arbor
Bell Tourist Ent/Das Gift Haus, Sault Ste. Marie
Ben Franklin Mooney's Store, East Tawas
Benchley Amish Furniture & Gifts, Clare
Ben's Supercenter, Brown City
Beyond the Rainforest, Grand Blanc
Big Top Wyoming, Wyoming
Bird's Eye Outfitters, Sault Ste. Marie
Bivouac, Ann Arbor
Blue Star Studio of Wood & Glass, Fennville
Bob's Septic Service, Marquette
Borr's Shoes, Holland
Boyne City Hardware, Boyne City
Branham's Jewelry, East Tawas
Bridge Street Baby, Rockford
Brink's Ice Cream Express, Caledonia
Bryan's Hardware, Grant
Bunny Tuxedos, Grandville
C & L Sports Center, Fostoria
C & S Jewelers, Vassar
Cabbage Patch Cafe & Catering, Grosse Pointe Park
Campus Closet – Alpena High School, Alpena
Canney's Water Conditioning Inc, Kalamazoo
Captain's Quarters, Traverse City
Carson City Lumber, Carson City
Central Michigan Auto Glass, West Branch
Charlotte Chamber of Commerce, Charlotte
Cheapskates, Riverview
Chesley's, Lincoln Park
Circare, St. Clair Shores
Comfort Center, Manistee
Conklin Benham PC, Ann Arbor
Connor's Inc, St. Clair Shores
Cooper & Binkley Jewelers, Brighton
Coppernoll Hardware, Grass Lake
Cotton Bay, Holland
Country Casuals, Petoskey
Country Garden Flowers and Greenhouse, Bay City
Country Home Creations, Goodrich
Country Woods, Ovid
Creative Fashions of Holly, Holly
Danny's Fine Foods, Monroe
DBI Business Interiors, Lansing
Dealers Discount Craft & Floral, Centerline
Denno's Furniture, Saginaw
Dentures In a Day, Grand Rapids
DeVries Jewelry Store Inc, Grand Rapids
Doc Sweets Candy Co., Clawson
Dominant Systems Corporation, Dexter
Dusty's Cellar, Okemos
Eastbrook Auto Wash, Comstock Park
Ed Rehmanns, Chesaning
Ed's Orchard Market, Hesperia
English Gardens, West Bloomfield
Fairview Hardware, Fairview
Famous Soo Locks, Sault Ste. Marie
Farmington Shoe Repair, Farmington
Foster's Ace Hardware, Newberry
FOUND, Ann Arbor
Frame Works Art & Gift Gallery, Plymouth
Frankenmuth True Value Hardware, Frankenmuth
Fremont Area Chamber of Commerce, Fremont
G. Currie Corp, Traverse City
Gaines Jewelers, Flint
Gemmen's Inc, Hudsonville
Gilbert Chocolates, Jackson
Golden Shoes, Traverse City
Good Goods, Saugatuck
Grins of Saugatuck, Saugatuck
Grins of St. Joseph, St. Joseph
H & H Jewelry Design, Lansing
Hale's True Value Hardware, Dowagiac
Hanson Foods, Hart
Harrison Lumber Company, Harrison
Healthy Futures Organic Feed Supply, Clarkston
Heartfelt Reflections, Flint
Hensler Furniture, Saginaw
Heydlauff's Appliance, Chelsea
Hodges Jewelry & Gifts, Hastings
Honor Hardware & Bldg Supply, Honor
H T Hackney Co., Grand Rapids
Hush Intimate Apparel, Brighton
Impression 5 To Go, Lansing
Indian Hills Gallery, Petoskey
Integrity Printing, Clare
Ionia DDA, Ionia
J & M Holdings Inc, Monroe
Jack's Fresh Market, Menominee
Jackpine Business Center, Manistee
Jim Redmonds Auto Service, Saginaw
John's Bar – Ratajczak Inc., Munger
JTV, Inc., Jackson
Kaden Inc, Sanford
Kauffman's Furniture, Petoskey
Kean's Store Company, Mason
Kerton Lumber Co., Holly
Lansing Laser, East Lansing
Larson & Son Ace Hardware, Inc., Hart
Leppink's Inc., Belding
Lincoln Street Pediatrics, PLLC, Bay City
Linde Furniture, Cheboygan
Linn & Owen Jewelers, Lansing
Little Forks Outfitters Inc, Midland
Lokers Shoes, Holland
M Mazzoni Jewelers Inc, Farmington
Mack-Alger Tire, St Clair Shores
Madigan Ace Hardware, Munising
Madison Petroleum Inc., Birmingham
Maloney Carpet Company, Lansing
Maple Street Mall, Mason
Marshall Fine Jewelry, Southfield
Marshall Music Company, Lansing
Martin Spring and Drive, Inc., Kalamazoo
Mastro's Ice Cream, Saint Clair Shores
McLeans Hardware, Kalkaska
McNab Hardware, Waterford
Meauwataka General Store, Cadillac
Mercuryhead Gallery, Grand Rapids
Michigan Barn Wood & Salvage, Mason
Michigan House Café, Calumet
Mid-Lakes Screen Printing, Delton
Mieras Family Shoes, Grand Rapids
Mitchells Dept. Store, Leslie
Modern Hardware, Grand Rapids
Mr. Bill's Shirt Co., Traverse City
MyTown Ace Hardware, Dorr
Nankin Hobby, Westland
National Office Products and Printing, Sault Ste. Marie
Nawara Hardware/Ball Park Hardware, Grand Rapids
Neiman's Family Market, Clarkston
Nichols Ski & Sport, Dearborn
Norm Henry Shoes, Owosso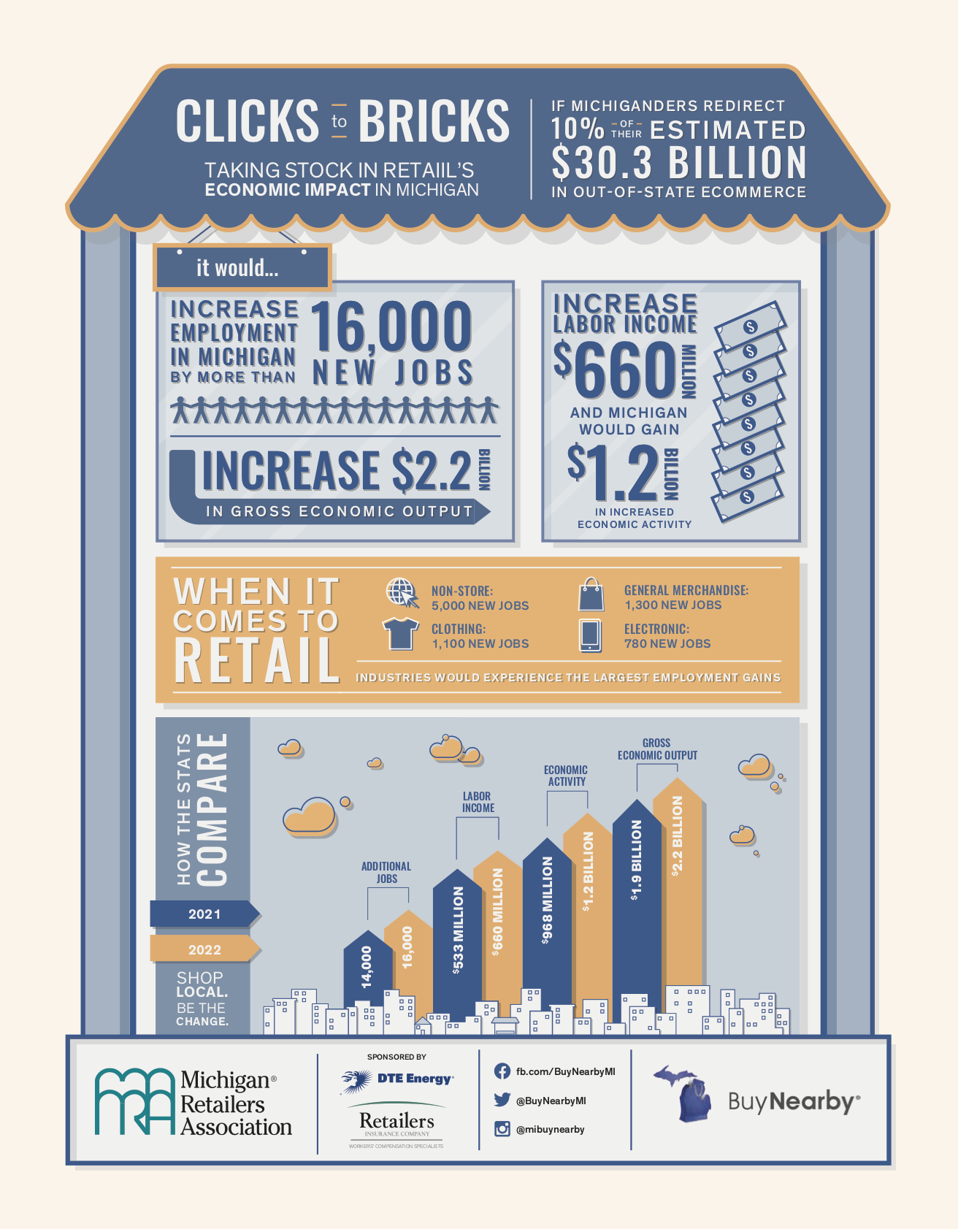 Keep Your Money in Michigan!
Orchard Markets, Fruitport
Orchard Markets, Spring Lake
Orin Jewelers Inc, Garden City
Packaging Corp of America, Edmore
Pat's Food Center, Freeland
Peppercorn, Traverse City
Peters True Value, Milford
Pet Supplies Plus, Royal Oak
Phillips Jewelers, Coopersville
Pigeon Hardware, Pigeon
Playmakers, Okemos
Pointe Hardware & Lumber, Grosse Pointe Park
Power Supply Inc., Niles
Powers Clothing, Jonesville
Preferred Designs & Interiors, Cedar Springs
Props, South Haven
Rahilly's IGA, Newberry
Resort Photography, St. Ignace
Richard's Appliance, Charlotte
Richard's Tire, Petoskey
Robinette's Apple Haus, Grand Rapids
Rogers City Home Furnishings, Rogers City
Roll Models, Allen Park
Sacks Furniture Company, Monroe
Saper Galleries, East Lansing
Saturn Marketplace, Dearborn Heights
Scott Publishing LLC, Okemos
Serendipity Road, Midland
Shaw's Pharmacy, Durand
Sideways, Plymouth
Siegel Jewelers, Grand Rapids
Sign of the Pineapple, Williamston
Silver Sand Resort, Mears
Simply Vintage Marketplace, Mason
Sincerely Susan's Fashions, Richmond
South Lyon Cycle & Sports, South Lyon
Southside Party Store, Holland
Splash of Color Tattoo & Piercing, East Lansing
St. Laurent Brothers, Bay City
St. Vincent de Paul, Lansing
Standard Office Supply, Port Huron
Susan L Micklow DDS, Marquette
Swift True Value Hardware, Houghton
Tele-Rad Inc., Holland
TENDER, Birmingham
The Birdfeeder Inc., Clarkston
The Chelsea Group LLC, Wyandotte
The Essence Shop, Frankenmuth
The Grain N Grape Inc., Gladstone
The Mole Hole, Sault Ste. Marie
The Mole Hole of Marshall, Marshall
The Peacock Room, Detroit
The Sweet Tooth of Rockford, Rockford
The Western Breed, Galesburg
thistle, Charlevoix
Thomas A. Davis Jeweler, Holland
Three Pines Studio, Cross Village
Tino's Bar & Pizza Inc, Negaunee
Tom's Food Markets, Traverse City
Touch of Finland, Marquette
Treasure Chest Gifts, Mackinaw City
Trenton Jewelers, Trenton
Trillium, Mt. Pleasant
True Value Hardware of Greenville, Greenville
Two Mike's Plumbing & Heating LLC, Goodrich
Universal Electronics, Shelby
Urquhardts Tree Farm, Dexter
V & A Bootery, Kalamazoo
Val-Du Lakes Bar & Grill, Mears
Van Wieren Hardware, Holland
Vassar True Value Hardware, Vassar
Village Customs Interiors, Byron Creek
Village Markets – Murk's, South Haven
Village Peddler Gift Shoppe, Brooklyn
Vredeveld's Shoes, Fremont
Wagoner's Your Hometown Food Store, Mattawan
Wattsson & Wattsson Jewelers, Marquette
Wawonowin Country Club, Inc., Champion
Wayland Area EMS, Wayland
WB Hayden & Sons, Cassopolis
Weir Furniture Center, Inc., Sault Ste. Marie
West Higgins Lake Hardware, Roscommon
Willi's Sausage Company, Frankenmuth
Wingelmire Furniture Inc, Holly
Wohlfeil Hardware & Tools, Saginaw