What Happens When You Send Four Interns to the U.P.
Thursday, Day 1
­­Bags packed, car loaded, tank full; the Buy Nearby Guy was about to embark on his longest journey of the summer- and so were the rest of us – his four eager interns.
Crammed in the van for six long hours, we decided it was time to get out of the van and stretch our legs in Munising, home of the notorious Pictured Rocks National Lakeshore.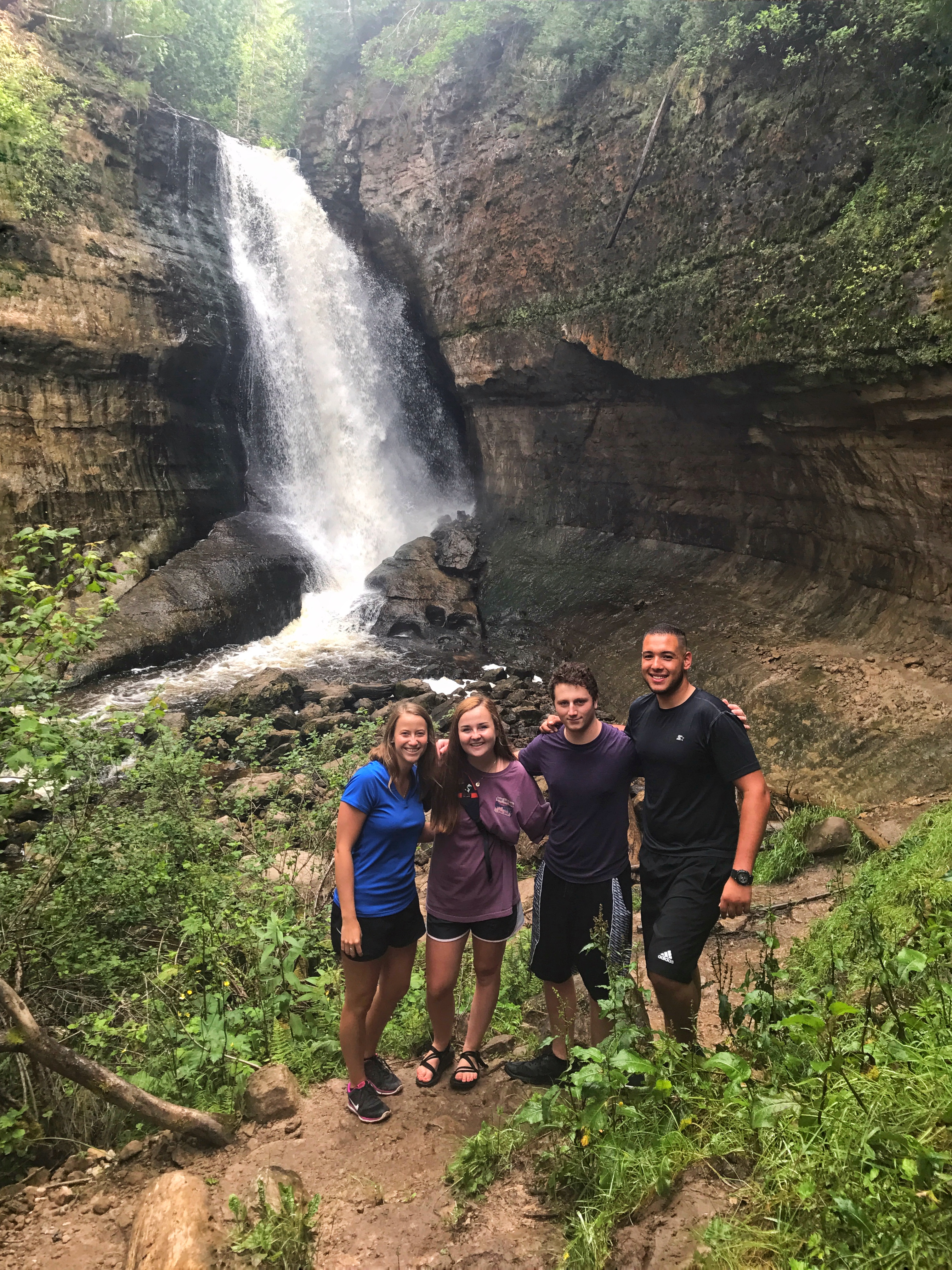 A quick one-mile hike to Miners Falls and it was time for a pick-me-up to fuel us through the last 40-minute drive to Marquette. We chose Munising's Falling Rock Café and Bookstore, a quaint little shop located on US-28 that offers tasty food and a homey atmosphere.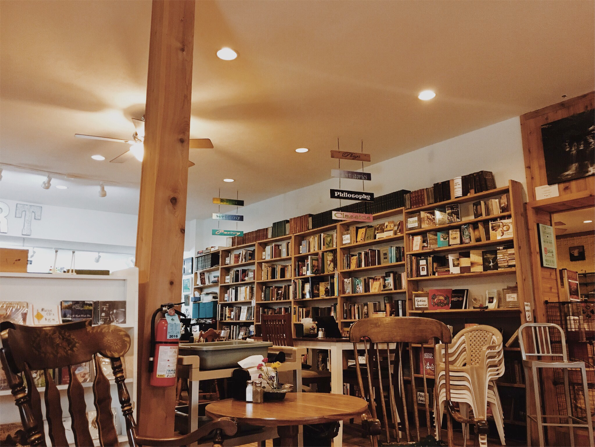 As we made our way west along the coast of Lake Superior, we closed in on an ore dock in the distance and knew our destination was near.
When traveling with four young adults food is always a top priority. With the goal of buying nearby, we headed to Third Street in search of a meal.  Stucko's had exactly what we were looking for: burgers!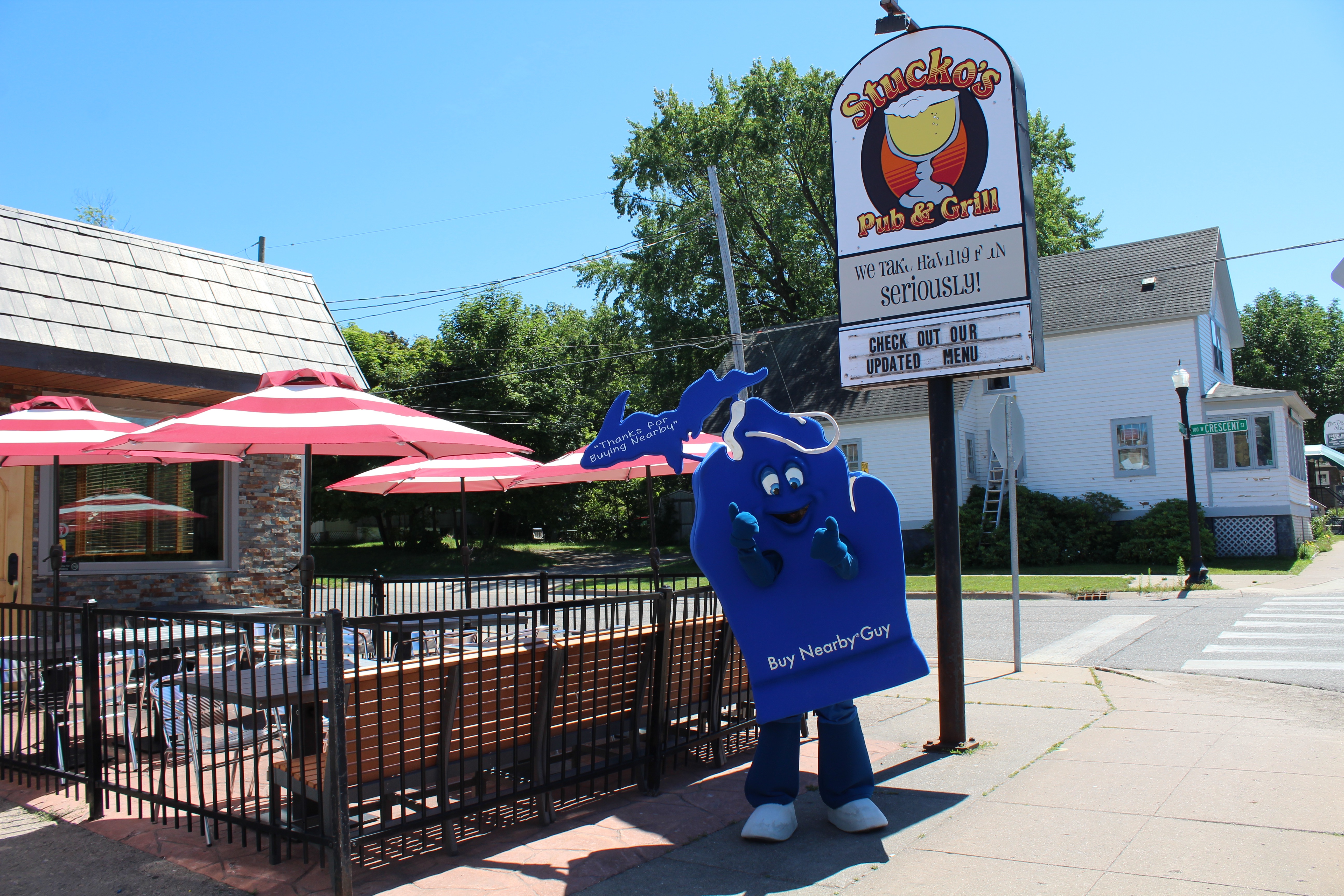 Friday, Day 2 
After a good night's rest, the team was ready to see all that Marquette had to offer. The first stop was Donckers, a candy store, gift shop and restaurant all wrapped in one. With omelets, pancakes and coffee in our bellies, we grabbed some salted caramels for the road and headed downtown to the Blueberry Festival.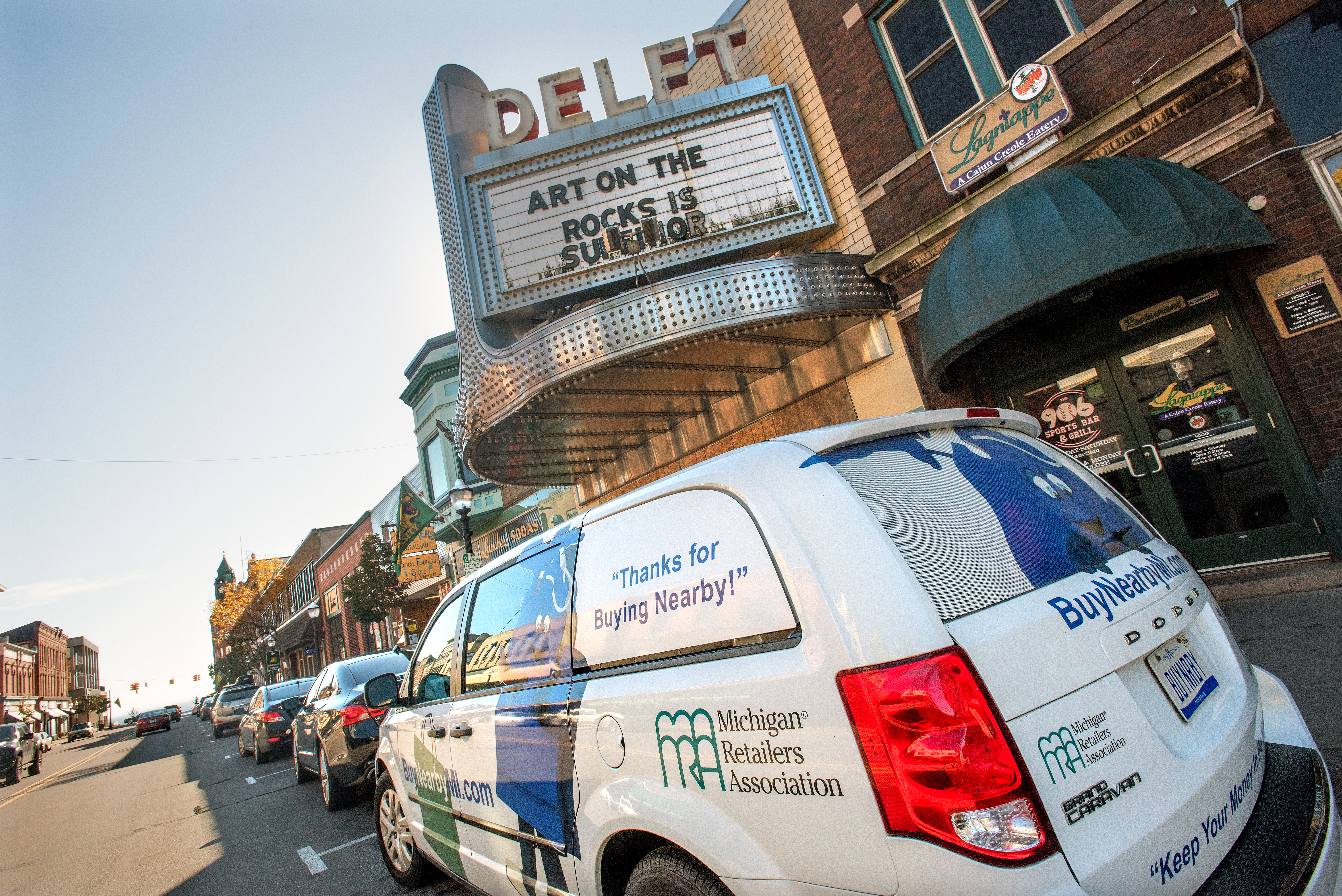 Hundreds of visitors crowded the streets to support local businesses at this popular festival. Some of the Buy Nearby Guy's favorite booths included: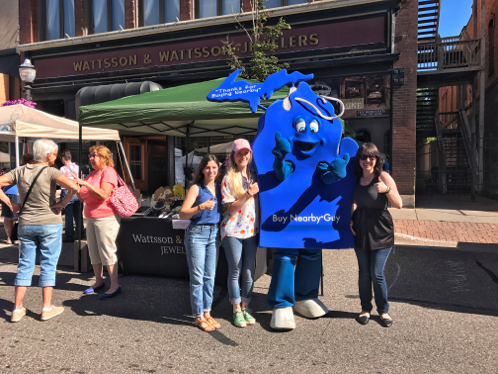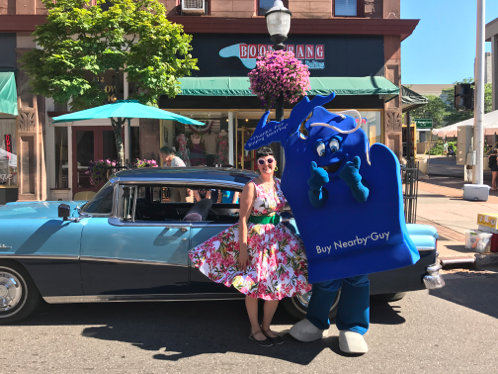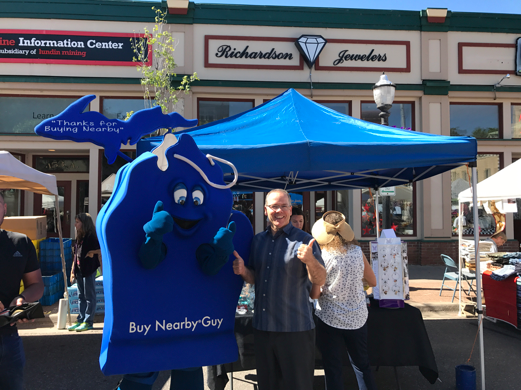 We made a point to inform as many festival-goers as we could about our exciting weekend coming up this fall: I Buy Nearby Weekend on October 7th & 8th. Shoppers have the opportunity to win a $500 Discover gift card just by posting a photo of them shopping with the hashtag #BuyNearbyMI. If you're a retailer, check out the 6 Tips to get shoppers in your store. For more information you can visit BuyNearbyMI.com.
The Blueberry Festival was definitely one of the highlights of the U.P. trip. The Buy Nearby Guy loved seeing people buying nearby, and the community of Marquette was doing just that.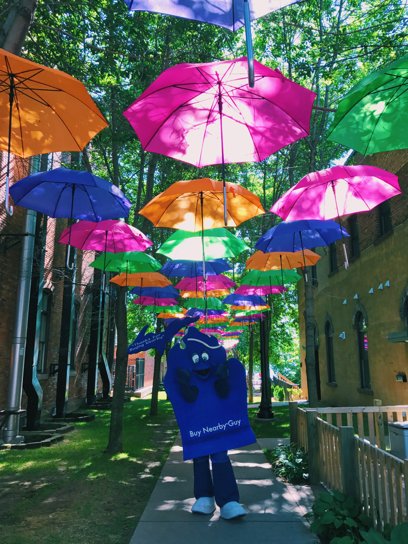 Saturday, Day 3
Art on the Rocks is a renowned art fair located in Mattson Lower Harbor Park adjacent to the ore dock. Artists from all over Michigan flock to showcase their work to the visiting patrons and shoppers. This year, Buy Nearby Guy felt lucky to be part of the fun.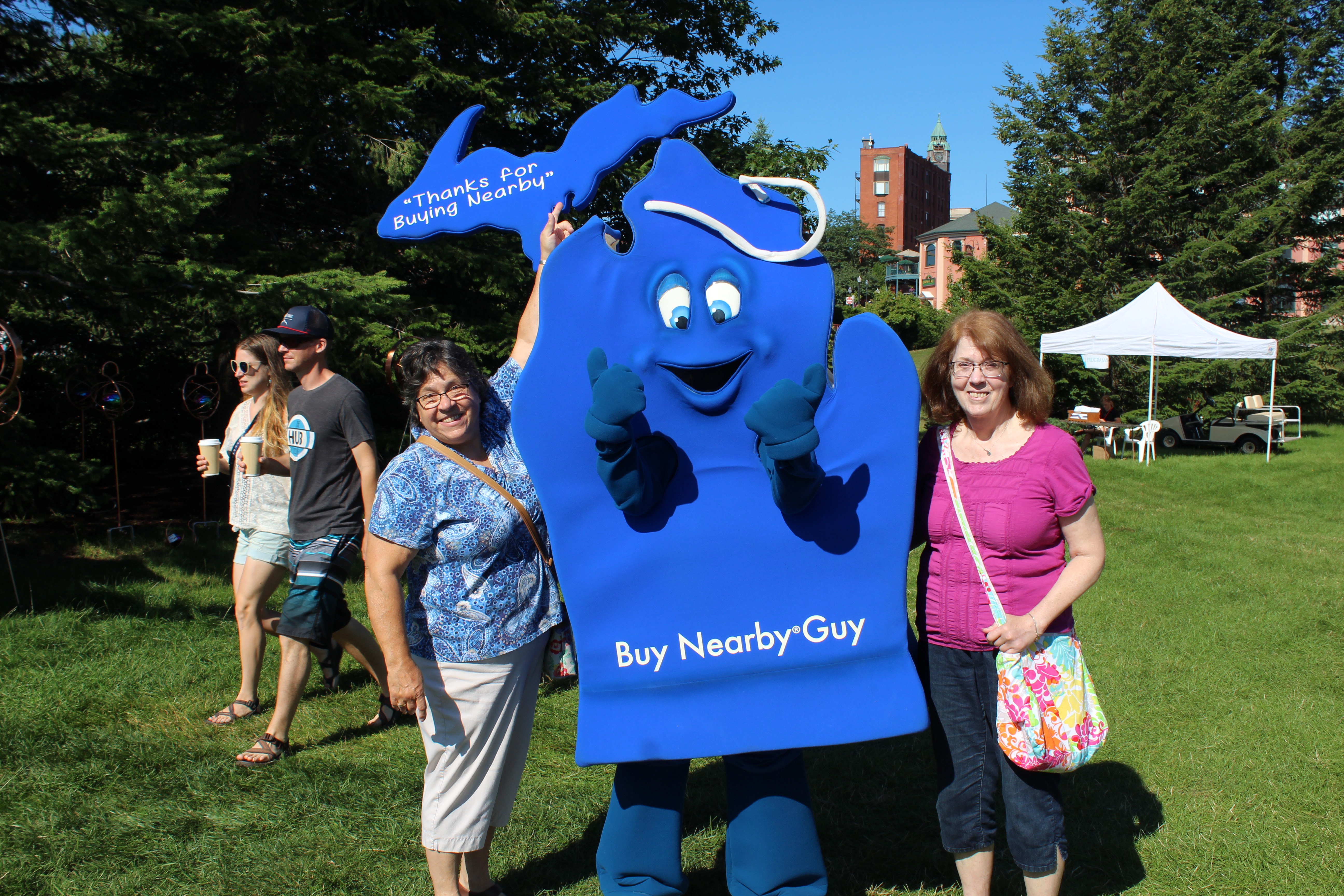 With happy shoppers all around us, it was tough to leave but a great way to end our time in Marquette.
Next stop: Escanaba!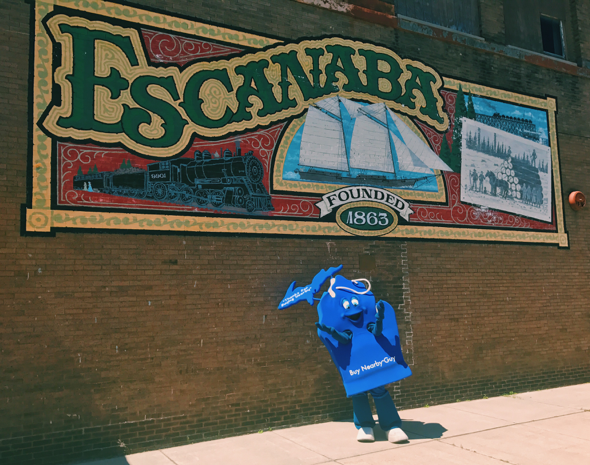 The team was very impressed by everything the U.P. had in store for them and Escanaba was no exception. The Escanaba Sidewalk Sales showcased the merchandise from the many shops that packed Ludington Street. Buy Nearby Guy's first visit to Escanaba was a huge success after seeing the streets lined with patrons buying nearby.
Sunday, Day 4
Saddened by the fact that our adventure was coming to an end, the interns made time for one more stop: Mackinaw City.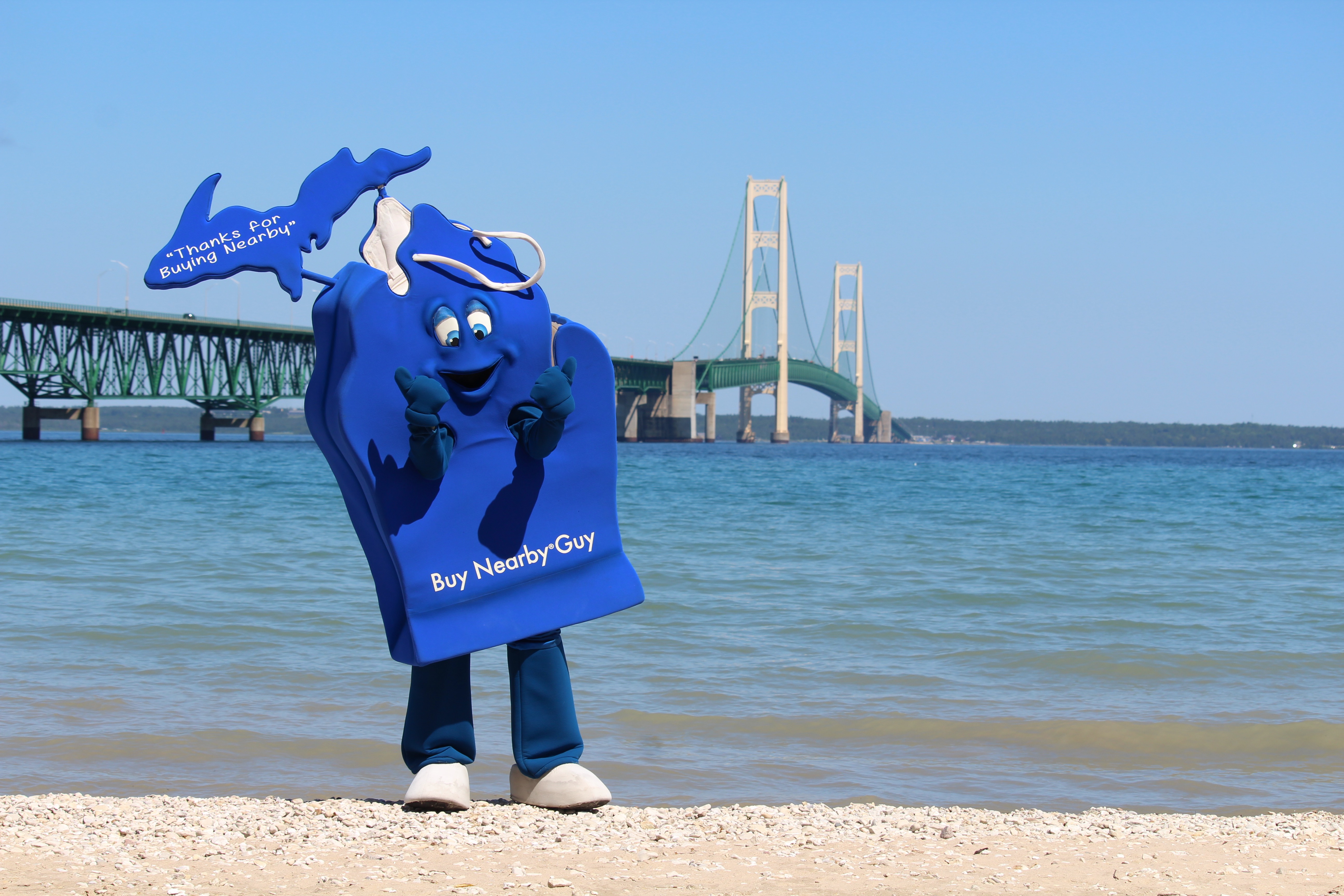 Mackinaw Crossings is a small outdoor mall located in the heart of the city and home to many of Mackinaw City's favorite novelty shops. The team strolled through the mall and even made a few Buy Nearby purchases of our own.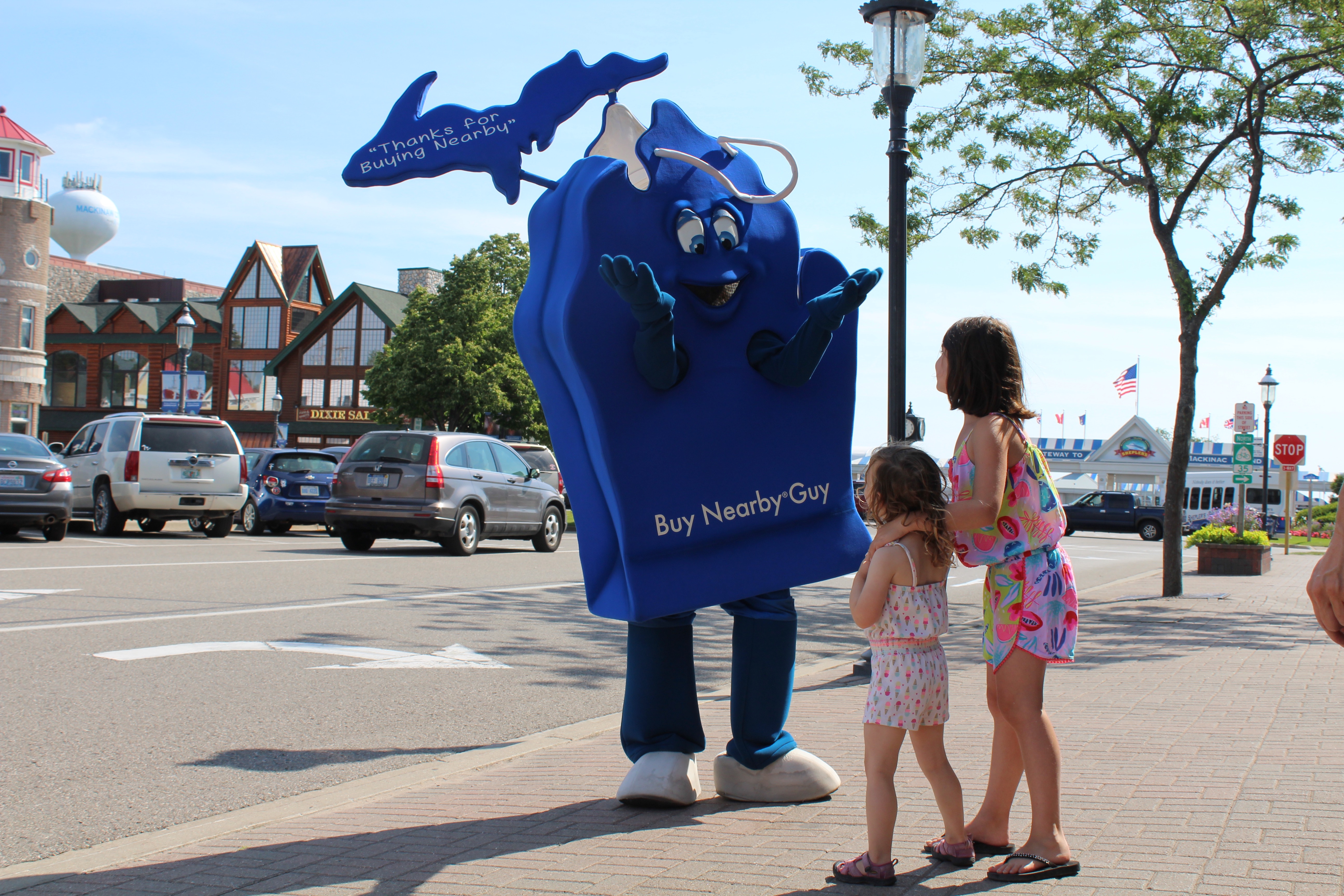 The crew stopped into The Candy Corner/Windjammer Gifts and found just what they we were looking for: T-shirts, candy, and of course, Mackinaw City fudge.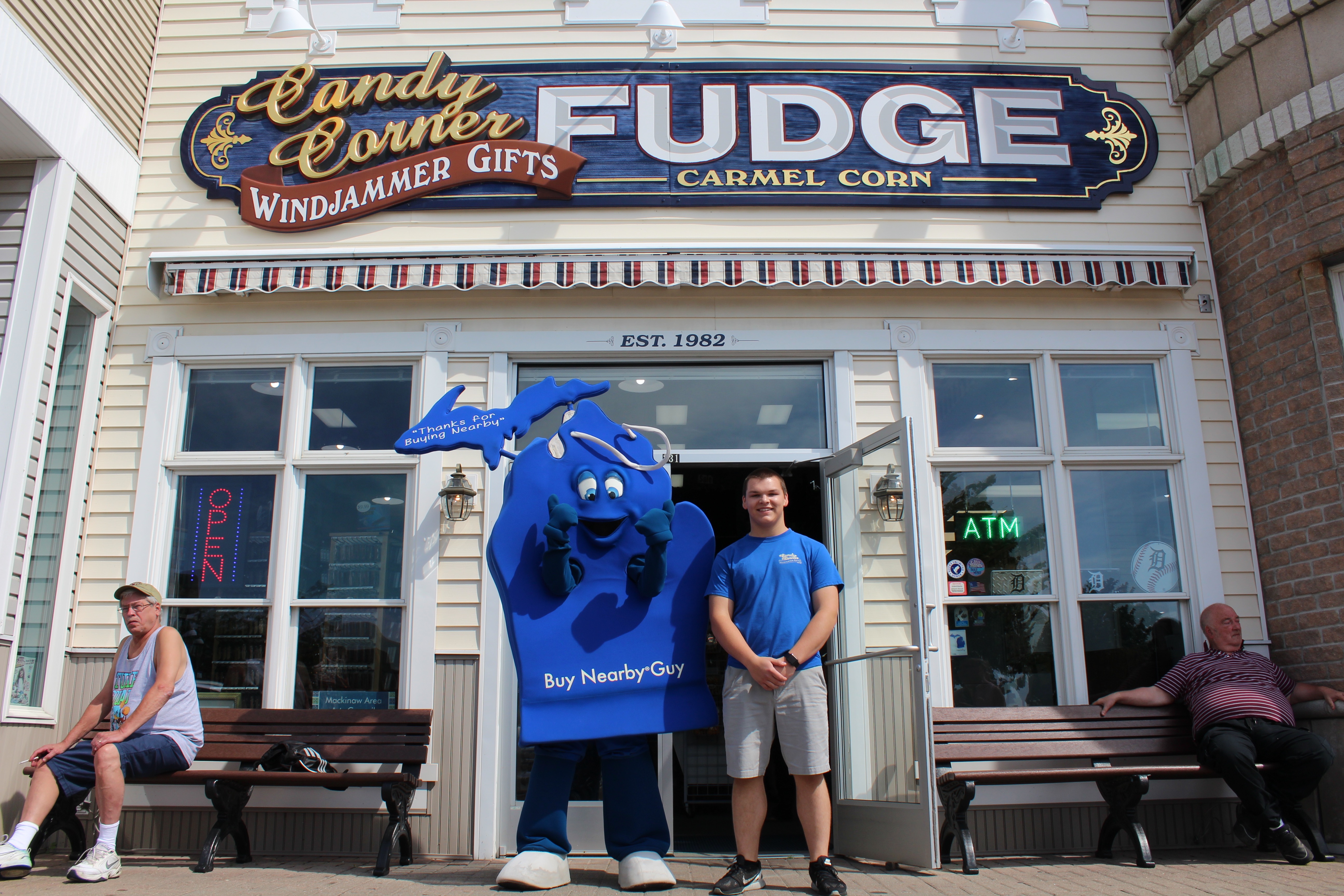 All in all, we went to the U.P. unsure of what we'd get out of this trip. We came out with a better appreciation for our state, a whole lot of memories and only one cracked windshield.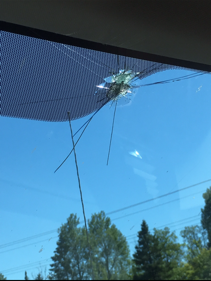 Until next time, Upper Peninsula!
You can follow more Buy Nearby Guy adventures on Twitter, Facebook and Instagram. And be sure to save the date for Buy Nearby Weekend on Oct. 7-8 – go to our Facebook event page and tell us you're going!