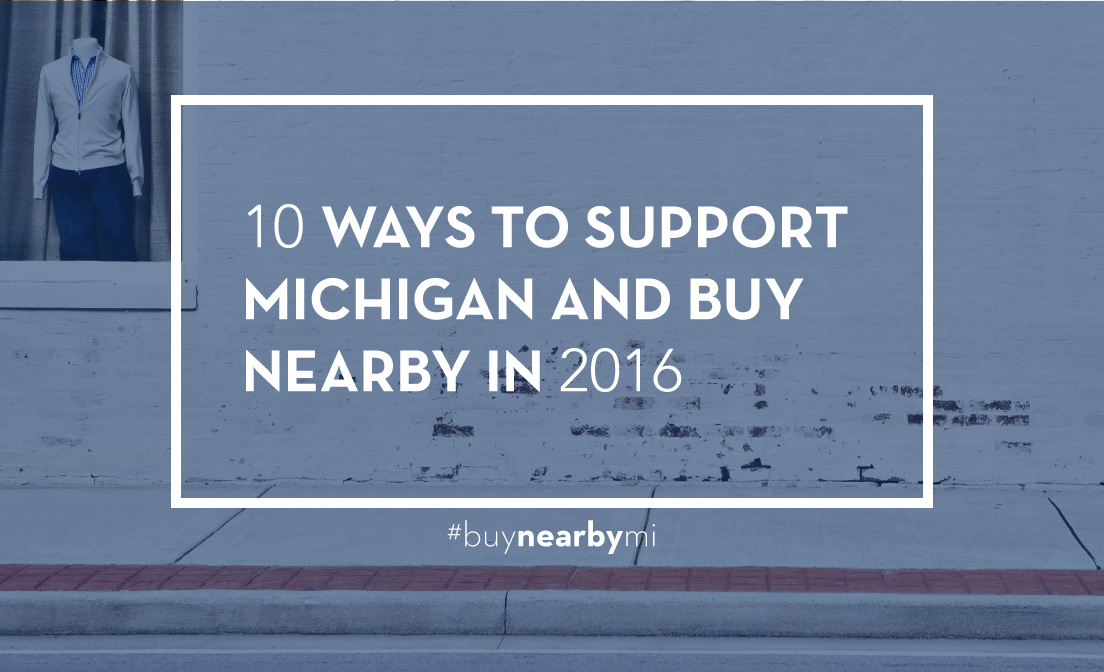 10 Ways You Can Buy Nearby and Support Michigan in 2016
A new year comes with new goals, and 2016 is no different. This year, we want to get even more Michiganders buying nearby. Did you know that when you buy from a company in Michigan, roughly half of each dollar you spend goes into our state's economy? That will put $9 billion back into the Michigan economy if we all choose to buy nearby. Here are 10 ways you can buy nearby and support Michigan in 2016.
1. Try Out a Nearby Restaurant
We've all been there: it's Thursday night and you can't justify cooking with the weekend being only a day away. What about that burger place around the corner you've been meaning to try? Next time when you're asked, "Where do you want to grab dinner?" recommend a new place nearby. You may find your new favorite spot!
2. Drink Michigan-Made
It's no secret Michigan is known for its growing number of microbreweries and wineries. Whether you're grabbing a drink with a friend from college or picking up a bottle of wine for a housewarming party, find a Michigan-made product. If you're a fan of beer, Bell's in Kalamazoo and Founders in Grand Rapids have won multiple awards for their brews — and there are many other great Michigan craft brewers! If you're a wine drinker, book a trip to Traverse City and explore the area's wineries — there are close to 50!
3. Gift Michigan
The winter holidays aren't the only time we're searching for gift ideas. Whether it's something thoughtful for Valentine's Day or a birthday gift, sometimes it's difficult to find the perfect item. Stop by a shop and explore what products are offered. My Secret Stash in Traverse City and Leon & Lulu in Clawson both have an array of gifts perfect for your friends or family members, whether they live in Michigan or in another state.
4. Work It Out
Keep up with your New Year resolutions and fitness goals while supporting Michigan! Check out the classes at your nearby fitness center or yoga studio. Sometimes there are even specials for local residents.
5. Check Out Your Local Farmers Market
Imagine a market full of fresh, colorful, in-season produce. Not only do farmers markets make it easy to know where your food is coming from, they're not hard to find! Michigan has more than 300 farmers markets across the state. Some are only open on weekends, but many are open during the entire week. Find your local farmers market here.
6. Don't Just Shop Local, HIRE Local
Most Michiganders try to support Michigan by buying in their community, and that should count for services, too! Whether you're hiring a plumber or getting a new driveway poured, check out the vendors in and around your community.
7. #NewYearNewDo
If you're looking to reinvent your look for the new year, stop by a nearby hair studio in your community. While you're there, pick up some of its shampoo and other products! Any money going towards a Michigan business is supporting Michigan's economy.
8. Visit a Downtown District
Everyone dreams of shopping in New York, but what about right in your hometown? Michigan's downtown districts offer shopping, food and entertainment — all within walking distance!  If you're in Metro Detroit, check out Downtown Birmingham, Main Street in Royal Oak or Rochester Road in Downtown Rochester. On the west side of the state, 8th Street in Holland has several unique restaurants and shops, and Muskegon's West Western Ave. is just steps from the water. Northern Michigan and the U.P. also have dozens of districts, including downtown Mackinaw City, Marquette and Petoskey.
9. Spread the Word
If you're already buying nearby, be sure to share your shopping finds with your friends! Tag your go-to local gift shop on Facebook, or share your daily coffee on Instagram. By spreading the word, you're introducing your friends and family to things you love, and supporting Michigan at the same time!
10. Follow our hashtag, #buynearbymi
We're obviously pretty in love with the mitten. We're always encouraging Michiganders (like you!) to buy nearby. Follow our hashtag #buynearbymi on Facebook, Twitter and Instagram for local deals and news about new businesses in your area. Be sure to use it when you're sharing news about your favorite local retailer — your post may be shared!