We've geared up for Buy Nearby Weekend 2019
This year's shop-local celebration takes place Oct. 4-6
Did you know that we can help you do a Buy Nearby promotion at a time that works best for you? All you need is a minimum of six businesses to sign on board, and we can help you mount a great shop-local campaign. A lot of downtowns are choosing to pass out our materials and hold a Buy Nearby shopper contest (we give you a $100 gift card for the prize!) during a local festival, as a way to spread the word.
But if you'd prefer to time it with Michigan Retailers Association annual event, you can do that too! We're gearing up for Buy Nearby Weekend on Oct. 4-6.
This year, the hot new item is our revamped coloring book. You can request these at any time, or we can load you up right before your Buy Nearby Weekend. Contact Rachel Schrauben at rschrauben@retailers.com.
Here's what in our Buy Nearby packets: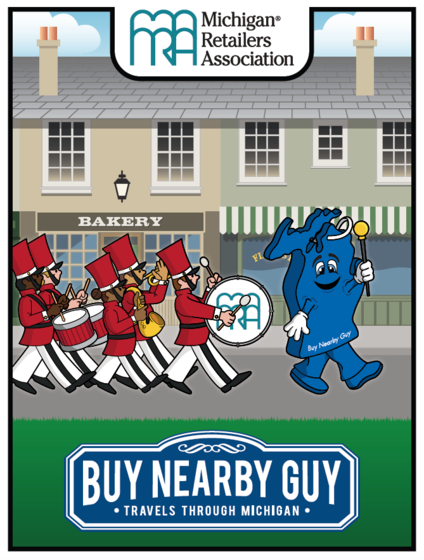 Buy Nearby Coloring Books
11×17 Buy Nearby Poster
9×11 Buy Nearby Poster
Buy Nearby Window Decal
Bag Stuffers
Talking Points
How to Create Your Own Buy Nearby Promotion
Buy Nearby Stickers
Photo Contest Directions
Buy Nearby Bags
Don't forget to "like" our Buy Nearby Facebook page to keep up on happenings and shop-local news.
If your DDA, PSD or chamber group meets regularly, Meegan Holland is available to present on how to do a Buy Nearby promotion or how to jumpstart retail in your downtown. You can contact her at mholland@retailers.com to set up a date and time.