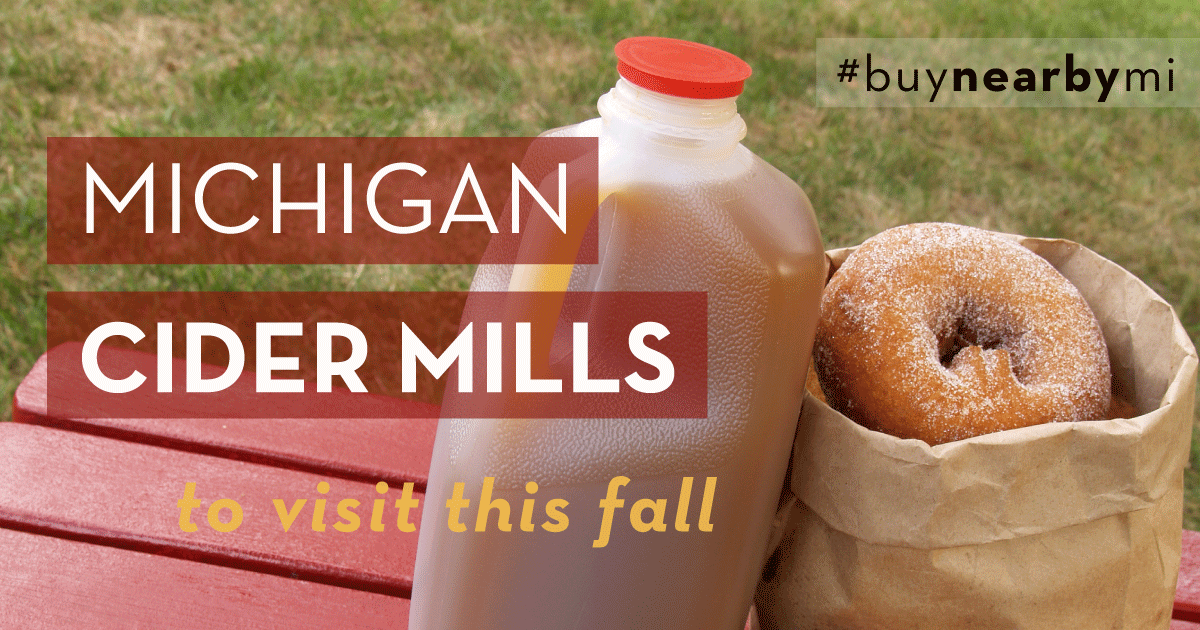 It's easy to Buy Nearby when you visit your local cider mill
You can feel it in the air. You can see it in the trees. But better yet, you can taste it.
That's right, it's fall.
In the Mitten, that means picking fresh Michigan apples, sipping warm cider and buying cinnamon sugar donuts by the dozens!
Wherever you are living or traveling this fall, be sure to stop by at a few of these top Michigan cider mills!
Use this interactive map to see some of our favorite spots to hit!
Dexter Cider Mill
3685 Central St.
Dexter, MI 48130
This Eastern Michigan cider mill is considered the oldest continuously operating in Michigan. Their mill has been featured in numerous magazines and papers showcasing their long standing tradition of varieties of delicious treats.
Over the past 100 years, it has perfected baked goods, frozen slushies, natural and vinegar products, barbeque sauces, mustards and locally grown products. During the weekends, it teams up with local Sandhill Crane Winery to offer wine tastings at the cider mill.
Website: http://www.dextercidermill.com/
Facebook: https://www.facebook.com/The-Dexter-Cider-Mill-117706361641264/
Robinette's Apple Haus & Winery
3142 4 Mile Road NE
Grand Rapids MI 49525
U-Pick orchard, hard cider and wine tasting, corn mazes, donuts, cider, jams, outdoor trails and hayrides are just some of the activities to take part in at this Grand Rapids mill year-round.
This fall, Robinette's is celebrating its 50th anniversary by creating a Charlie Brown-themed corn maze. A giant Snoopy will appear throughout the maze as the Red Baron. After finishing the maze, visitors can watch "It's The Great Pumpkin, Charlie Brown!"
Website: https://robinettes.com/
Facebook: https://www.facebook.com/Robinettes/
Yates Cider Mill
1990 E Avon Road
Rochester Hills, MI 48307
Yates at Canterbury Village
2375 Joslyn Court
Lake Orion, MI 48360
This Rochester tradition has been around since 1863 and recently expanded its goodies to a new location at Canterbury Village. Between the two locations, Yates offers a cider mill, homemade treats, petting zoo and pony rides, to name a few attractions.
Check out the Yates apple index, showing all the different types it offers and yummy recipes in which to use them.
Website: https://www.yatescidermill.com/
Facebook: https://www.facebook.com/YatesCiderMill/
Uncle John's Cider Mill
8614 North US 127
St. Johns, MI 48879
On top of traditional cinnamon sugar and cider donuts, Uncle John's Cider Mill spiced up its appeal by adding pumpkin and buttermilk flavors. Gourmet options are available, some with different frosting toppings.
This Midwest cider mill offers fun for the whole family! For adults, there are apple wines, hard ciders, vodka and brandy. For the kids, Uncle John's has jumping pillows, hay rides, inflatable play spaces, train, corn maze and more!
Website: http://www.ujcidermill.com/
Facebook: https://www.facebook.com/UJCiderMill/?fref=ts
Twitter: https://twitter.com/ujcidermill
Knaebe's Mmmunchy Krunchy Apple Farm
2621 S. Karsten Road
Rogers City, MI 49779
When the Knaebe family moved back to Rogers City in 1982, it didn't take it to plant roots – literally. Three years later, the family planted its first apple tree. The farm has been expanding ever since.
In addition to the farm's baked goods, apples and cider, it is brewing up something special — Twisted Roots Cider. This hard cider is a new venture that will be available year-round. You can learn more about which apples will be ripe when you want to visit on the farm's ripening schedule.
Coming up fast is the annual Halloween Egg-stravaganza, scheduled for October 22. "Kount Kottontail" will be hiding eggs throughout the pumpkin patch for kids to hunt. There also will be donut decorating contests and more!
Website: http://www.mmmunchykrunchyapplefarm.com/
Facebook: https://www.facebook.com/knaebesmmmunchykrunchyapplefarm.mi/
Friske's Orchards Farm Market
10743 US-31
Ellsworth, MI 49729
Can't make it to Friske's this season? Well, the farm market makes it easy to get your favorite goodies delivered right to your door. Friske's online shop offers everything from your favorite apples, butters, jams and salsa to gift boxes to send to family and friends.
Besides having cider and donuts, this cider mill has a full-blown menu, including pizza, pasta, omelets and more. Don't have time to sit down and dine? Go ahead and order take-out to bring home some of your favorites.
Friske's offers a variety of local products from Sanders Meats, Backdraft Roasting Company and Northwoods Soda.
Be sure to stop over on October 8 for Apple Fest Days for apple pie pancakes, live music by the "Cherry Blossom Ramblers," wagon rides and apple ballooning, and to pick your own apples.
Website: http://www.friske.com/
Facebook: https://www.facebook.com/FriskesFarmMarket/?hc_ref=SEARCH&fref=nf
Instagram: https://www.instagram.com/friskesfarmmarket/