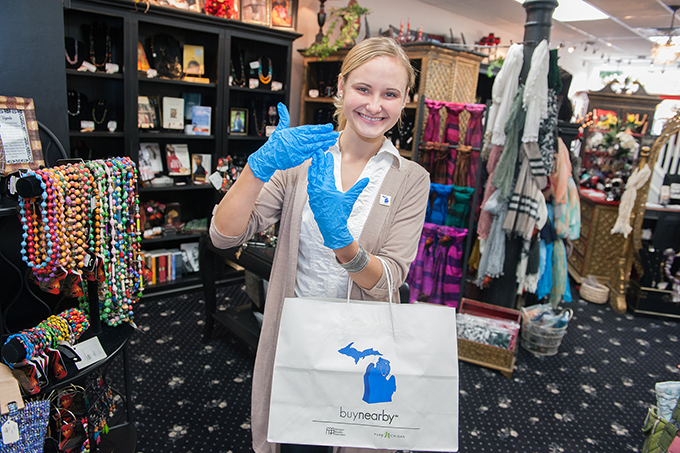 Celebrate Get Caught Blue-Handed Day
Michigan celebrates Get Caught Blue-Handed Day on Oct. 3 and while it's not an official holiday, it's a great reason to shop and support your community. Retail businesses across the state will celebrate by offering special merchandise or sales, and some communities will wrap the activities into hometown festivals.
It's all part of the Michigan Retailers Association's (MRA) year-round Buy Nearby campaign that encourages shoppers to support their local communities and state economy by buying from retailers in the Michigan places where they live, work, vacation or visit.
Need a reason to buy nearby? Here are three:
It's fun! It's fun to shop and retailers make it fun. Get Caught Blue-Handed Day gives shoppers a chance to get special deals when they shop at Michigan retailers on the first Saturday in October each year. Retailers may draw attention to special items with "Get Caught Blue-Handed" tags, and shoppers may bump into the MRA mascot, Buy Nearby Guy, an 8-foot-tall representation of a blue shopping bag in the shape of Michigan.
Win gift cards. Shoppers who share photos on social media of themselves "buying nearby" on Get Caught Blue-Handed Day and throughout the year and use the hashtag #ibuynearby on Facebook, Twitter or Instagram, will be entered into a photo contest for a chance to win Discover gift cards.
Grow jobs in Michigan. Nearly 75,000 new jobs would be created if Michigan residents made sure to buy from retailers in Michigan, rather than from out-of-state sellers who don't invest in the state. More than 866,000 Michigan jobs are directly dependent on retail sales.