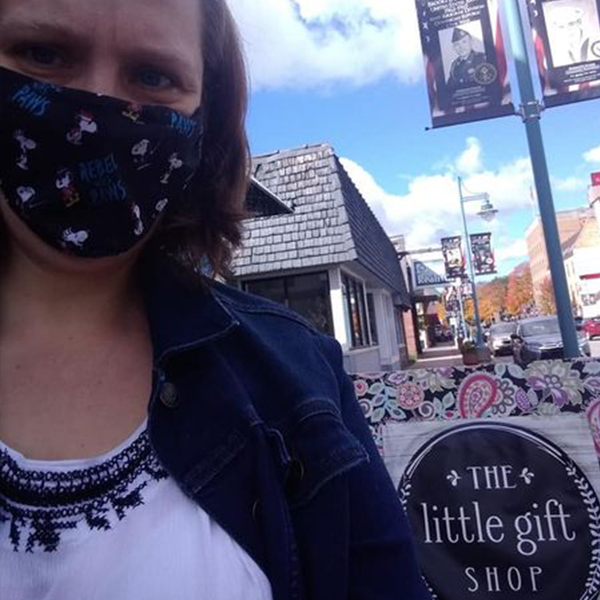 Sault Ste. Marie native wins $500 gift card on Buy Nearby Weekend
Michigan Retailers Association awards prize in #buynearbymi photo contest.
Terri Joe Linacre's downtown trip to the Sault Ste. Marie over Buy Nearby Weekend won her a $500 gift card from the Michigan Retailers Association (MRA) for buying nearby.
She started her shopping trip at Field and Forage, a first-time visit for her, and also wandered into The Little Gift Shop and UP North Wilderness, two of her favorites.
Now a current Soo resident, Linacre grew up in nearby Engadine and would frequently come into the Soo to shop.
"Downtown is charming, quaint and historical. I love the plants and the paintings in the sidewalks," Linacre said.
"Even though the Soo is a bigger town, it still has that quaint small-town feel."
Retailers across the state celebrated Buy Nearby Weekend this past Friday, Saturday and Sunday by providing special offers for customers who made a point to buy nearby. This event is part of a year-round campaign that encourages shoppers to support local communities and the state economy by purchasing products from Michigan retailers.
To enter the photo contest, shoppers used social media and the hashtag #buynearbymi to post shopping selfies or photos of their purchases. The winner was selected in a random drawing.
"I wish more people would take advantage of the smaller stores. People complain when there is an empty store, yet without constant support of the community, those businesses go under," Linacre said.
The Buy Nearby campaign is a program of the Michigan Retailers Association, which provides free promotional materials to participating stores leading up to the weekend. Packet materials include posters, coloring books, informational bag stuffers, Buy Nearby shopping bags and cards with information on the photo contest.
DTE Energy and Retailers Insurance Company are major sponsors of the campaign.
"As stores prep for the holidays, we're encouraging people to shop early and shop safe," said Bill Hallan, president and CEO of Michigan Retailers Association. "The pandemic has been a real hardship, so before you go online, think about how your shopping dollar could instead support local jobs and stores in your community. It means a lot during this pandemic year."
Independent research found that Michigan's economy would grow by more than $1.2 billion and create more than 10,000 new jobs if residents chose to switch just 1 in 10 of their purchases from out-of-state online retailers to Michigan retailers.
Additional information is available at BuyNearbyMI.com and Facebook.com/BuyNearbyMI. Thanks to all who made for a successful Buy nearby Weekend 2020!