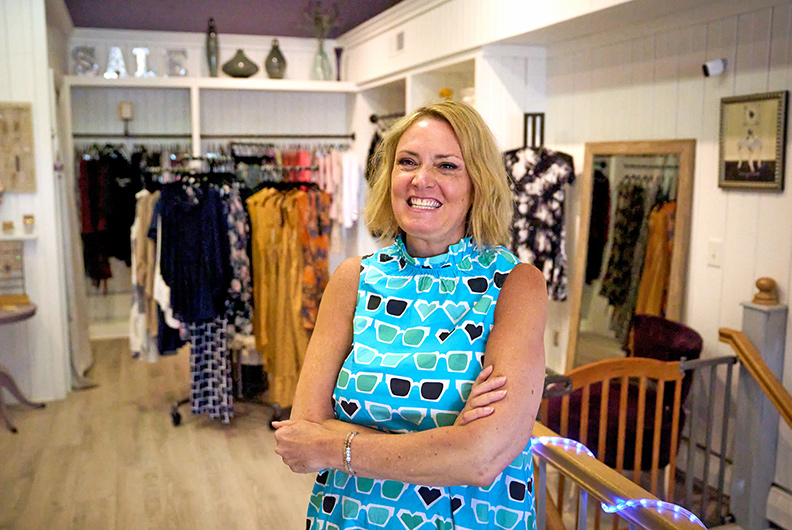 thistle: Deidre Weller's Charlevoix Fashion Destination Welcomes Everyone Who Loves Fashion
Located in downtown Charlevoix, thistle wants to make every woman feel beautiful no matter what they are wearing.
Deidre Weller's Vision
Deidre Weller's love for fashion took a backseat as she worked as a public accountant and then in healthcare finance for 30 years. However, during her shopping trips, she could see there were opportunities to improve customer service in some of the boutiques she frequented.
While driving through downtown Charlevoix in 2018, she saw a retail space was available. Weller treated it as a sign – she was going to open a boutique where women would feel welcome, confident, and comfortable. Within 30 days, Weller had signed the lease, given notice to her employer, and began her journey as a small business owner of thistle, a women's clothing boutique in the heart of downtown Charlevoix. This is her story, in her own words.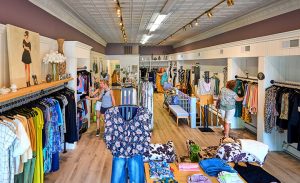 Why "thistle?"
When I was deciding on a name for the store, I knew I wanted it to be one word and I knew the color theme would involve purple. I created a list of possible names and kept going through it, showing it to friends and family. 'thistle' just caught my heart. After I chose the name, my mom gifted me a set of antique dishes from her mother that had emblems of thistles on them. I had no idea they existed and it made the name that much more special to me.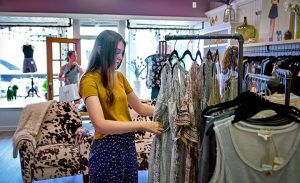 We greet everyone.
Our goal is to provide an exceptional shopping experience. I want you to remember your trip to thistle and think of us again and again, even if it's just to stop in and say "hello." We want to make women feel beautiful no matter what they're wearing. One of the hardest, but most rewarding things about owning this boutique is helping women overcome a negative body image. We try to help them gain the confidence they deserve.
I've been blessed with a great staff that understands my vision. They want to support and uplift women. One of the biggest misconceptions of the boutique is that we only carry high-priced items. One of my key tenets is that we carry items at a variety of price points. The key features of the lines we carry are quality, comfort, style, and versatility. My vision for the boutique has always been to have it feel elegant and special, while still being welcoming and comfortable.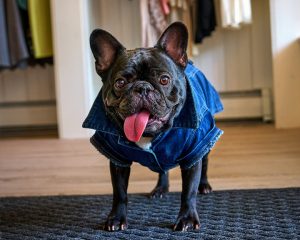 Our Frenchie Style was inspired by…
My French bulldog, Francois. I know how important dogs and pets are to their families. I wanted a way to offer dog parents something fun too. We have our best-seller, the doggie denim, custom denim jackets and so unique. All the products we sell are personally tested by Francois for their style factor, flavor, and durability! He even helps out in the store.
Our community was so supportive and truly amazing this past year.
In the early days of the pandemic, our community supported businesses through phone orders, curbside shopping, and online orders. They showed support through social media by sending encouraging messages. Honestly, they were our beacon. They gave us hope that we might make it through. It was very frightening in the early days. Knowing that our community rallied to help us speaks to the love they have for local stores. They want us to survive and thrive.
Why I joined Michigan Retailers Association
The camaraderie amongst other retailers is so helpful and was truly a lifeline during the past year. The lobbying efforts and regulatory assistance are so important. In my opinion, membership to MRA is actually an incredible value for all the services you receive. I also joined the Michigan Retailers Strategizing Together Facebook group for ideas and advice during the pandemic.
I first learned about MRA through the Buy Nearby campaign.
This year, it will be BIG! I've missed being able to have fun with customers and host events. The specifics are in the works, but I would like to do something special to say "Thank You" for all the support that got us through the worst of the pandemic. #buynearbymi