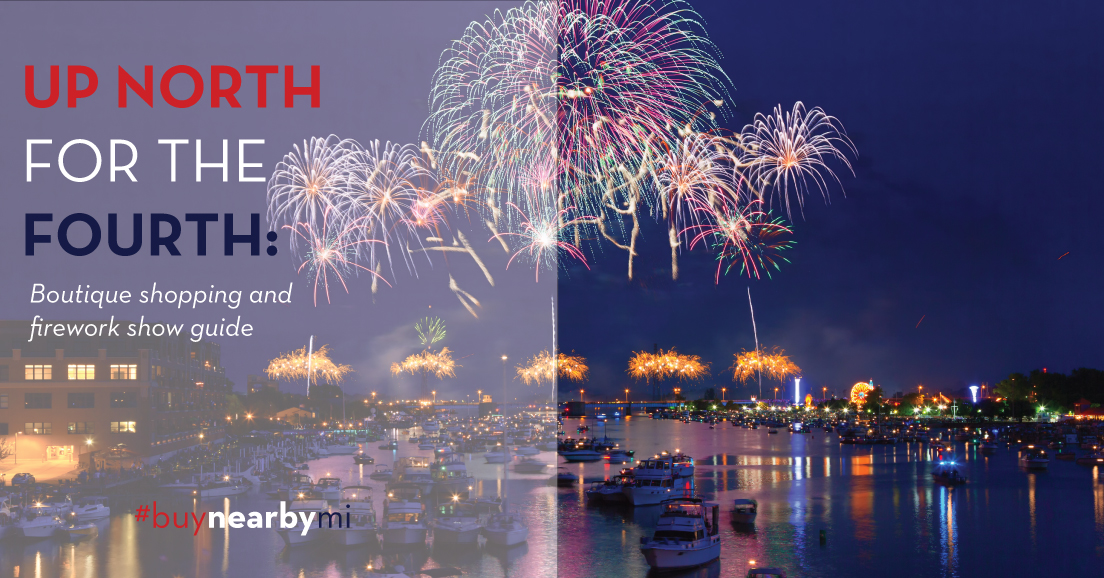 Red, white and blue is a color scheme embraced year-round by Americans, but one we particularly love to sport in our outfits – or see exploding in the sky – on Independence Day.
Last year, the average U.S. household spent $71.23 prepping for the holiday. Whether it's hot dogs or handbags, party favors or apparel, you can find it all at Michigan retailers – so while you're Up North celebrating the Fourth, be sure to shop nearby to support the Michigan economy!
Here are a few of Michigan's Up North towns with nearby boutiques recommended by local residents, and some dazzling firework shows to match.
SUTTONS BAY & GLEN ARBOR
The Lima Bean – If you think different is good, then you'll love this retailer! The Lima Bean is known for its diverse merchandise, and touts its playful but comfortable shoes, clothes and accessories. It frequently posts about deals on Facebook, so give it a follow and make a visit part of your holiday festivities!
Cottonseed Apparel – Glen Arbor natives adore this boutique, and after one visit you'll see why! Cottonseed Apparel's mission is to "bring fashion to all women of all shapes to Northern Michigan." It has extended hours for the summer, from 10 a.m. – 9 p.m., so you can beach by day and shop by night!
Fireworks: Click here for info on nearby Glen Arbor and Suttons Bay fireworks!
TRAVERSE CITY
Ella's – Find antique and vintage pieces that come from across the globe at this Michigan retailer! Ella's is a Traverse City shopping favorite, giving the downtown some edge and tourists plenty of fashion inspiration. Swing by for the holiday weekend and discover unique items you can't find elsewhere!
Cherry Hill Boutique – While you're strolling downtown, be sure to stop in Cherry Hill Boutique, a staple  for women's fashion for more than 20 years. All clearance merchandise will be an additional 20 percent off. Cherry Hill Boutique is stocked with patriotic outfits and other vibrant clothing and accessories to add to your summer apparel.
Fireworks: Click here for info on nearby Traverse City fireworks!
CHEBOYGAN
Billie's Fashions – It's owner Billie's birthday on July 4, so all the more reason to do some celebratory shopping and support nearby businesses in downtown Cheboygan! All regular priced store merchandise will be 20 percent off, so it's the ideal time to vamp up your summer wardrobe with handbags, dresses, blouses and jewelry. Visit the store's website, or check out what new items are in on Facebook!
Bittersweet – This store is another go-to for your shopping spree. Bittersweet features products from local artists to support local shopping and the community. You'll find eclectic gifts that the website promises will "catch even the most finicky shopper's eye."
Fireworks: Click here for info on nearby Cheboygan fireworks!
BAY CITY
My Secret Garden – Fill up a bag at My Secret Garden's Flag Tote Sale. From June 27 through July 4, you can buy a canvas patriotic tote for only $9.99, and receive 20 percent off everything you stuff it with, excluding Alex and Ani and Yeti brand products. You also get your choice of a flag scarf or flag bangle bracelet for free when you spend $25 or more! Find the store on Facebook and Instagram for store updates.
Little House – If you're in the market for home furnishings and seasonal décor, check out Little House! For the holiday, it will have garden art on sale, along with 4th of July accessories. Like them on Facebook to hear about their latest merchandise and upcoming sales.
Fireworks: Click here for info on nearby Bay City fireworks!