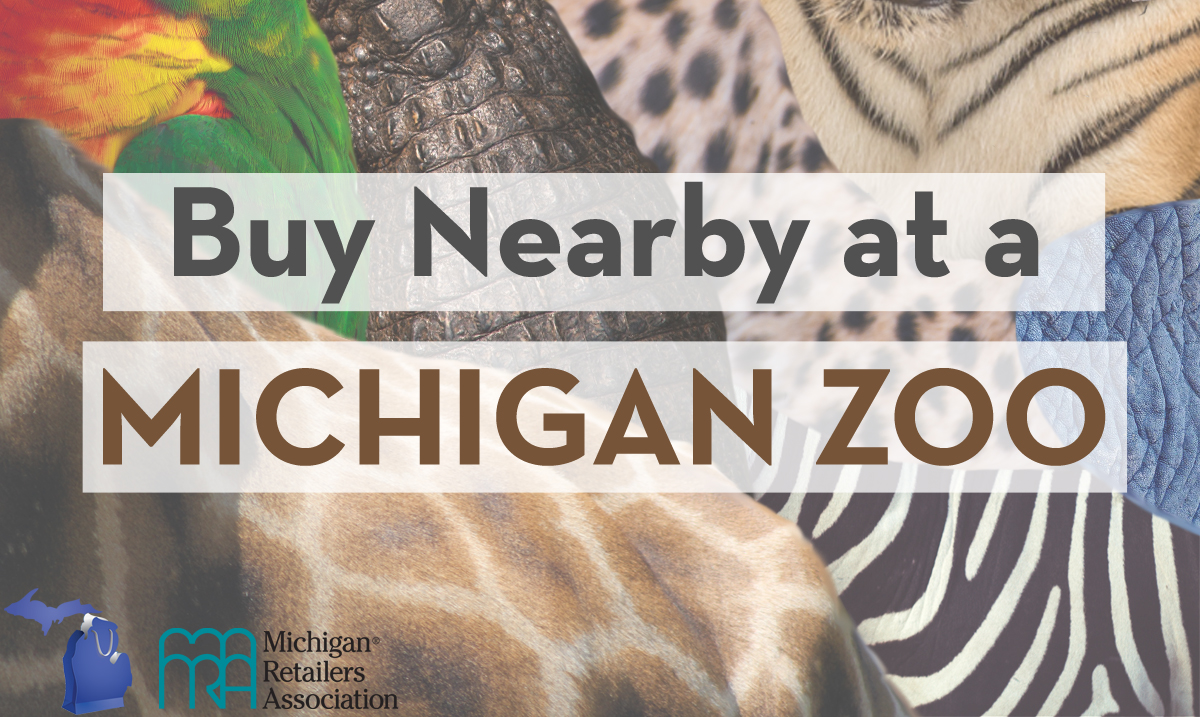 Buy Nearby at a Michigan Zoo
School is out, summer is here and you just heard the first "I'm bored." (Cringe)
Time to change up the daily routine. Try a trip to one of Michigan's zoos. With many located around the state, it's easy to find one to lure you out of the house.
Zoos are also great opportunities to Buy Nearby. Most animal houses have gift shops, food courts and stations to feed the furry, slimy and feathered friends.
Enjoy your wild side!
Accredited Zoos
Zoos accredited by the Association of Zoos & Aquariums must meet high standards for living environments, health and nutrition programs for animals. Many participate in the AZA's Species Survival Program, in which zoos work together to maximize genetic diversity through proper breeding and to manage the demographic distribution.  
Binder Park Zoo
7400 Division Dr.
Battle Creek, MI 49014
Binder Park Zoo is located in the western side of the lower peninsula in Battle Creek. The zoo hosts hundreds of different species, but popular among guests is Twiga Overlook, the balcony where guests can feed the many giraffes. You'll remember the first time you hand-feed a giraffe, so share the experience with someone else!
Next on the zoo's schedule is the Reptile Weekend, August 5-6. With hands-on encounters with over 100 reptiles and amphibians all weekend long, your family will learn how vital they are to the environment.
Buy Nearby at the Safari Gift Shop for an African-inspired souvenir. The zoo also has two restaurants open daily.
Website | Facebook | Instagram | Twitter
Children's Zoo at Celebration Square
1730 S. Washington Ave.
Saginaw, MI 48601
If you're curious what a cotton-top tamarin and a white-throated capuchin are, you need to head to the Children's Zoo at Celebration Square in Saginaw.
The Children's Zoo is hosting a Birds, Bugs, Butterflies and Blooms event on August 5 at 10am. There will be presentations and activities with the feathered friends and interesting insects all day.
Visit the Train Whistle Café or swing by the Zoo Store for a souvenir.
Website | Facebook | Instagram | Twitter
Detroit Zoo
8450 W. 10 Mile Road
Royal Oak, MI 48067
The Detroit Zoo hosts many events throughout the year such as the Wild Summer Nights concert series, Zoo Brew and Appetite for Adventure. Their calendar is located here.
With more than 2,000 animals, it's the largest zoo in the state. If you're really feeling the heat and want to cool down, check out the Polk Penguin Conservation Center and the Arctic Ring of Life for an unforgettable experience.
Website | Facebook | Instagram | Twitter
John Ball Zoo
1300 W. Fulton St.
Grand Rapids, MI 49504
John Ball Zoo is located in the heart of Grand Rapids. The zoo has multiple exhibits, such as the Realm of Flight bird show, Pelican Pier, Crawford Tigers of the Realm.
John Ball Zoo is a perfect trip for kids and families but the zoo also offers adult-centered events. On July 20, their 21-and-older, Rock, Roar and Pour is from 6-9pm. Drink a cold beer, listen to music and experience a behind-the-scenes look of the zoo with animal encounters.
Website | Facebook | Instagram | Twitter
Potter Park Zoological Garden
1301 S. Pennsylvania Ave.
Lansing, MI 48912 
Potter Park Zoo finds its home in Lansing. The zoo includes over 50 acres of land and more than 500 animals.
Potter Park Zoological Garden offers day- or week-long camps. Registration is still open and the camps continue through most of August. Let your little learner experience animals firsthand and socialize with other children their age.
The Zoo has many food and drink stands and a gift shop near the exit.
Website | Facebook | Instagram | Twitter
SEA LIFE Michigan Aquarium
4316 Baldwin Road
Auburn Hills, MI 48326
If you find yourself at the Great Lakes Crossing Outlets in Auburn Hills, you better stop by the SEA LIFE Michigan Aquarium.
The aquarium offers guests the chance to interact with creatures at a touch pool, watch feeding demonstrations and get a behind-the-scenes tour of the life support systems, food preparation, quarantine and laboratory areas.
There are over 250 different species at the aquarium guaranteed to make a splash among guests. Get underwater and book your admission now.
Website | Facebook | Instagram | Twitter
More Zoos
Boulder Ridge Wild Animal Park
8313 Pratt Lake SE
Alto, MI 49302
Website | Facebook | Instagram
DeYoung Family Zoo
N5406 County Road 577
Wallace, MI 49893
Website | Facebook
GarLyn Zoo Wildlife Park
W9104 US 2
Naubinway, MI 49762
Website | Facebook
Indian Creek Zoo
2744 Consear Road
Lambertville, MI 48144
Website | Facebook | Instagram
Roscommon Zoo
6327 North M-18
Roscommon, MI 48653
Website | Facebook | Instagram