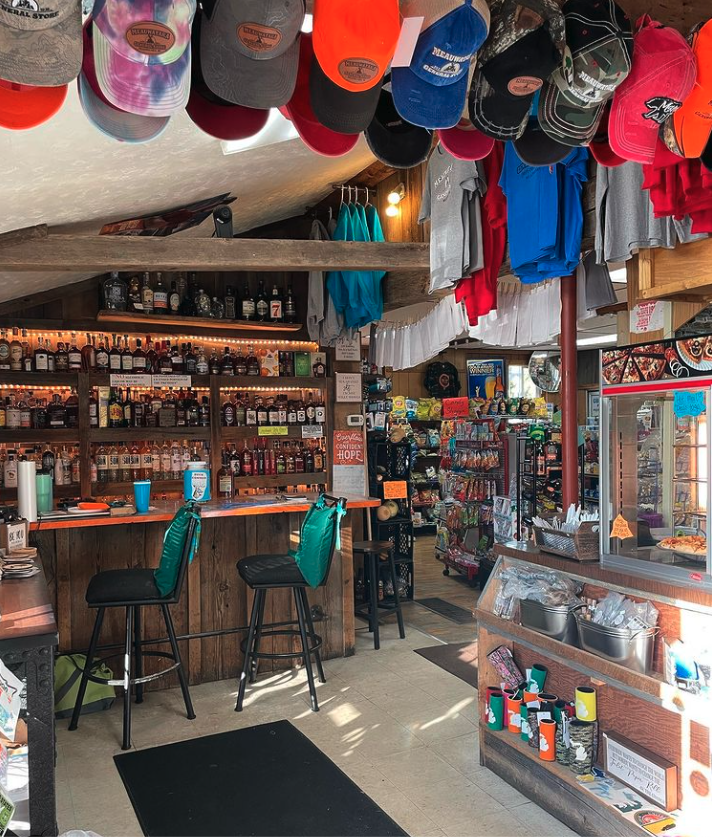 Cadillac Shopper Wins $250 Gift Card on Buy Nearby Weekend
Meauwataka General Store in Wexford County also wins $250 in annual photo contest by the Michigan Retailers Association
Bill Bednarick's trip to the Meauwataka General Store in Cadillac during Buy Nearby Weekend won him a $250 gift card from the Michigan Retailers Association (MRA) for buying nearby.
The Meauwataka General Store is a historic general store located within the Manistee National Forest in Cadillac, Michigan. Pam and Ken Sandy and their family have been operating the store since 2021. The family-owned store carries locally roasted specialty coffee, smoked fish, jerky, cheese, t-shirts, hats, food and grocery items, candy, snacks, beer, wine, liquor, made-in-Michigan products, prepared food, deli items, drinks, and more.
Bednarick purchased hot sausage and beer as he supported local during Buy Nearby Weekend.
"The Meauwataka General Store is my favorite place to pick these up as they carry the hot flavor sausages. They also have a good selection of cold beer, liquor and snacks. Their hot food specials make them a go-to for a quick, tasty lunch while enjoying the outdoors in the Meauwataka area," Bednarick said.
"Local businesses like the Meauwataka General Store are very important to the local economy and provide a unique shopping experience," Bednarick continued. "They will always know how the local hunting or fishing conditions are, and are happy to recommend new areas to enjoy the outdoors."
Retailers across the state celebrated Buy Nearby Weekend between Oct. 7 and 9, 2022 by providing special offers for customers who made a point to buy nearby. This event is part of a year-round campaign that encourages shoppers to support local communities and the state economy by purchasing products from Michigan retailers.
To enter the photo contest, shoppers used social media to post shopping selfies or photos of their purchases, tagging the Buy Nearby Facebook, Instagram, and Twitter pages. The winner was selected in a random drawing.
According to a recent study by the Public Sector Consultants, research found that Michigan's economy would grow by more than $2.2 billion and create more than 16,000 new jobs if residents chose to redirect just 1 in 10 of their purchases from out-of-state online retailers to Michigan-based businesses.
"The Buy Nearby campaign was started to educate Michigan shoppers about the benefits their purchases at local stores have on the economy," said William J. Hallan, President and CEO of the Michigan Retailers Association. "When you shop at a nearby store, you're supporting friends and neighbors employed there. You're supporting the same businesses that donate to local sports teams and fundraisers. You're supporting the real people inside your community."
About Buy Nearby
The Buy Nearby campaign is a program of the Michigan Retailers Association. Buy Nearby is a year-round shop local campaign that encourages Michigan residents to keep their shopping dollars in-state, rather than sending them to out-of-state businesses with no ties to Michigan. The first weekend in October is deemed Buy Nearby Weekend, designed to encourage Michiganders to make a point to visit local retailers and to "Keep their Money in Michigan." MRA provides free promotional materials to stores leading up to the weekend.
DTE Energy is a title sponsor of the campaign. Retailers Insurance Company is the secondary sponsor.
Additional information is available at BuyNearbyMI.com and Facebook.com/BuyNearbyMI.