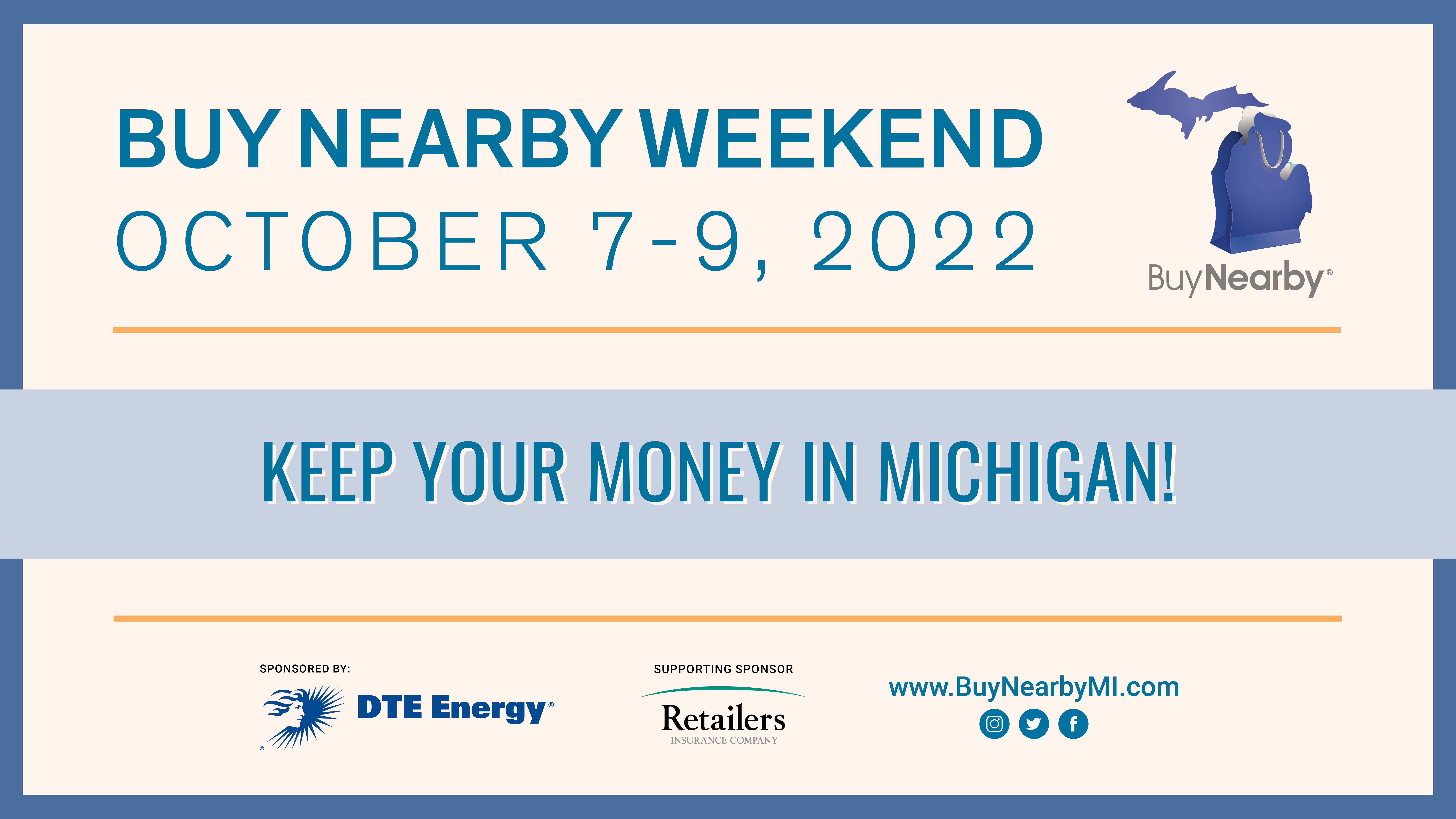 MRA's Annual Buy Nearby Weekend is Oct. 7-9
Shop local, enter photo contest, visit participating retailers for deals
Whitmer recognizes Buy Nearby Weekend
Shops and stores on Main Streets and Michigan Avenues across the state will join the Michigan Retailers Association (MRA) this weekend in celebration of Buy Nearby Weekend. From Oct. 7-9, many retailers will be offering special merchandise or sales and the chance for one lucky shopper to win a $250 gift card by posting a photo while shopping local and tagging the MRA's Buy Nearby campaign on social media.
Buy Nearby is an annual campaign by the MRA, with a focus on keeping Michigan's Main Streets strong. DTE is the campaign's supporting sponsor. 
Gov. Whitmer also proclaimed Oct. 7-9 as Buy Nearby Weekend in Michigan, encouraging shoppers to visit their downtown and support a local retailer. 
Michiganders typically send $30.3 billion to out-of-state retailers, according to a 2022 economic study by Public Sector Consultants. If just one in 10 purchases were redirected to a Michigan store, our economy would get a $2.2 billion boost and add nearly 16,000 jobs.
"In this election year, vote with your feet and dollars – visit your local businesses and spend your dollars here in Michigan," said MRA President and CEO Bill Hallan.
 "Keeping your money in Michigan can make all the difference in your local downtown, especially as those same businesses hire your friends and family."
As an extra incentive to Buy Nearby, one shopper will earn a $250 Visa gift card by taking a photo shopping at a participating retailer and sharing it online. 
How to enter: take a selfie shopping at a local store or a photo of your purchase during the weekend; post it to social media tagging the corresponding page:
Twitter – @BuyNearbyMI

Facebook – @BuyNearbyMI

Instagram – @mibuynearby
The winner will be chosen the following week in a random drawing. (Must be 18 or older to win; be sure your post is "public"). For a complete description of contest rules, visit our photo contest page. It pays to Buy Nearby!
In addition, the store where the photo was taken will also win a $250 Visa gift card.
With 122,000 stores, Michigan's retail industry employs about 758,000 workers and pays nearly $23 billion in wages each year. Indirectly, retailers purchase goods and services, hire cleaning services, security staff, accountants and more. And their employees spend money as well, the 2021 Public Sector Consultants study noted.
Additional information is available at buynearbymi.com.
###
The Michigan Retailers Association is the unified voice of Michigan's retail industry, representing nearly 5,000 members and their 15,000 stores and websites. You can get more information at retailers.com.