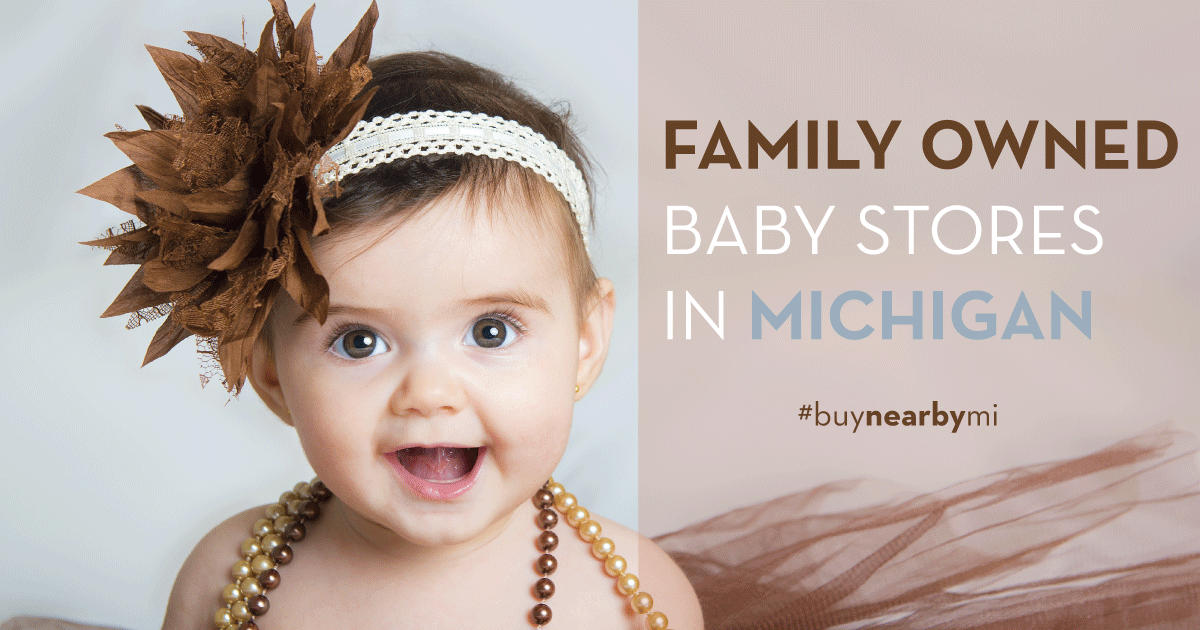 Family-owned baby stores and boutiques in Michigan in which to buy nearby
Let's face it, babies can look adorable in just about any outfit parents so gleefully style them in (such as ridiculously large flower headbands).
Even though babies make for the cutest fashion models, finding local stores with the latest child product trends – beyond just clothes – can be hard. So where in Michigan can you buy nearby for your little tikes?
Here's a list of family-owned baby and children boutiques located throughout the Mitten. So as you shop for your own family, you help out another with each adorable purchase. And it's great for Michigan's economy! That's a win-win-win.
Eco Buns – Holland
Considering using cloth diapers for your first or next child? Learn all the answers to your questions from the owners and staff of Eco Buns Natural Parenting Boutique. It specializes in cloth diapers and accessories, but features other natural products to remedy baby-related problems, such as teething or breastfeeding. A perfect shop for mommies who want eco-friendly parenting products!
 Check out Eco Buns on Facebook and Twitter!
 Tot to Teen Village – Kalamazoo
Let the kids tag along on this shopping trip! Tot to Teen Village was founded in 1937, and it remains a family-owned store with a kid-friendly ambiance. Living up to its name, inside the store is a tiny village with "buildings."  While you browse its selection of baby gear, furniture and clothing, the kids can go to the firehouse play area, complete with a slide and toy train set. Or, take them to the "jail" to try on new clothes in dressing rooms disguised as cells.
Check out Tot to Teen Village on Facebook!
My Urban Toddler – Ann Arbor
This retailer is owned by a mom who understands that parents want the best for their kids. My Urban Toddler has all the essentials, making it an ideal spot for gift shopping for an expecting mom or your own growing family. From changing tables to toys, this retailer has a huge selection to help you feel prepared for parenthood.  But don't let the name fool you, My Urban Toddler isn't just for your baby! You also can shop for maternity clothes.
Check out My Urban Toddler on Facebook!
Sweet Peach Children's Boutique –  Bay City
Sweet Peach Children's Boutique – Bay City
While you're shopping at Sweet Peach Children's Boutique, don't be surprised if you see the owners' little ones helping run the business. You'll also find high quality clothing for ages newborn to size 8, along with gifts and necessities. Everything here is hand selected by a mother-daughter duo.
Check out Sweet Peach Children's Boutique on Facebook!
The Circus Shop – Petoskey
If you're searching for quality clothing items for infants and toddlers, check out The Circus Shop! This 70-year-old clothing retailer has three generations of women business owners. It's great for finding special occasion outfits, or just clothes for the day-to-day. The Circus Shop also offers complementary gift wrapping to make your day a tad less hectic.
Check out The Circus Shop on Facebook!
Sweet Pea – Traverse City
After six years in business and three kids, Sweet Pea in downtown Traverse City has maintained its reputation as a trusted shop for kid products!
The owners are committed to answering the never-ending list of questions new parents have, and are especially great when it comes to creating a baby registry. The retailer puts a personal touch on everything, from a hand-written registry to staff members personally showing your guests what items are on your list.
Sweet Pea is worth checking out in-person and online! Its website offers a blog on new, safe products for kids to help you keep up on the trends, as well as a newsletter.
Check out Sweet Pea on Facebook!
Did we miss your favorite baby boutique or children's store? Find us on Facebook, Twitter and Instagram and to share your favorite Michigan retailers!