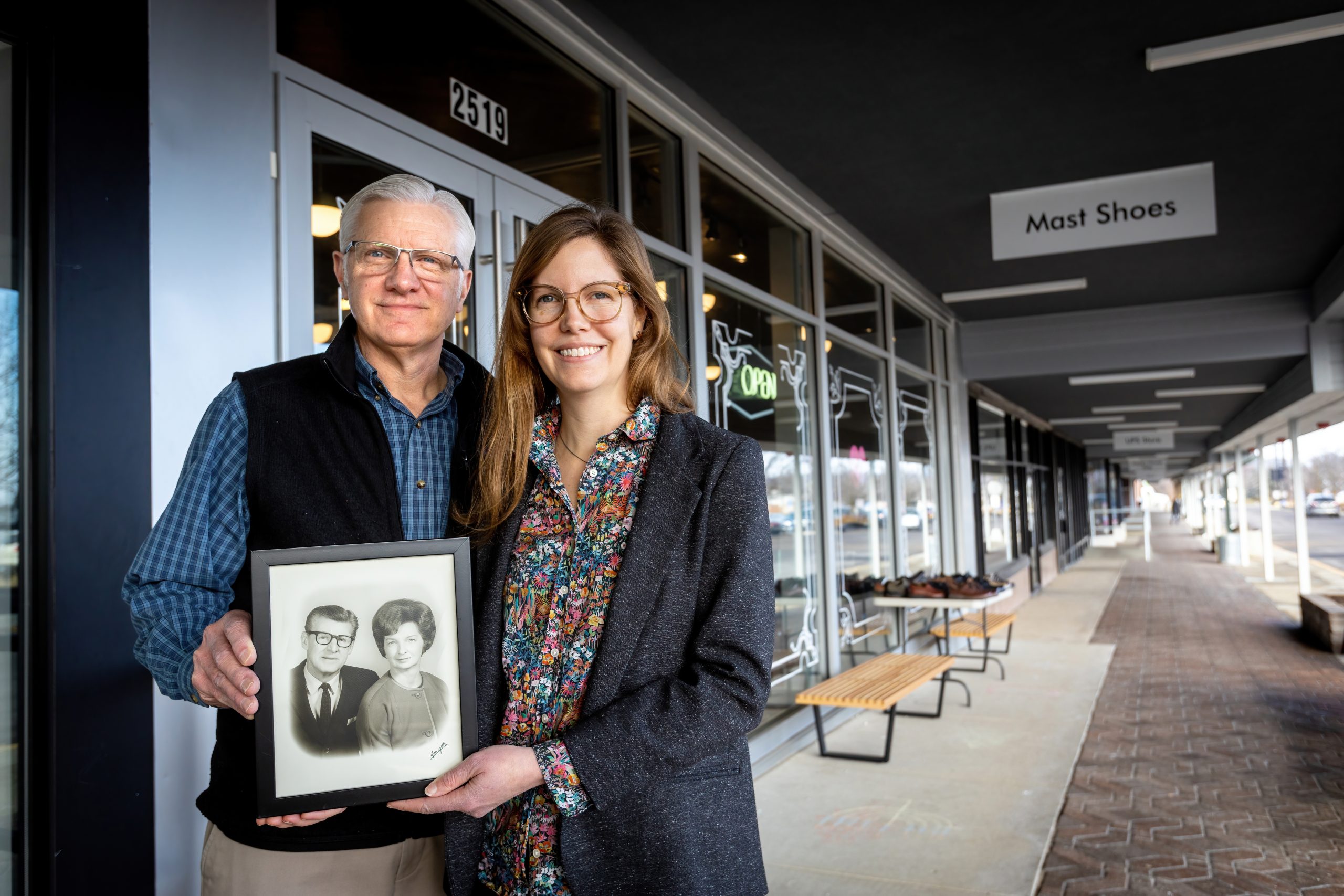 In Her Own Words: Molly Mast-Koss of Ann Arbor's Mast Shoes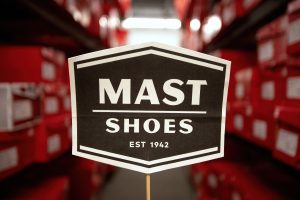 Mast Shoes was founded in 1942 on Main Street in Ann Arbor by Walter and Helen Mast. As the customer base grew, Walter and Helen opened two new locations and bore two sons, Tom and Greg. After Walter and Helen passed away in the mid-1990s, Greg and Tom decided to consolidate their three locations into their most popular and lively location in the Westgate Shopping Center. Tom retired in 2016. Greg and his daughter, Molly Mast-Koss, currently co-own and run the store together. Molly Mast-Koss, shares the store's history and the legacy her grandparents built.
Shortly after 1942, when Mast Shoes was founded,
my grandfather was drafted to fight in WWII. My grandmother, Helen, lived above the store, ran the business and cared for their first baby, Tom, until my grandfather returned. My grandparents never talked about this time when my grandfather was gone. During the pandemic this past year, I thought about what my grandmother would've had to work through with her husband overseas, along with being a new mother. It connected us as I tried to figure out how to maneuver Mast Shoes through the uncertainties and fears the pandemic brought. I kept thinking, "if she could get the business through that crisis, I can get it through this one."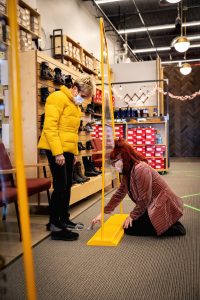 By the summer of 2004,
our Westgate store grew busier and busier. It made sense to consolidate all operations and staff to that location. In the past 20 years, as most shoe retail went the way of big box, chains and online, we doubled-down on our intention to remain customer-centric, specialized, unique, local and brick and mortar. We are confident the best, most successful and fun way to shop for shoes is in-person.
In 2017, a bigger location…
became available right next door to our location in the Westgate Shopping Center. It was 4,500 square feet, close to double the space we had. Together with my husband, Bartek Koss, who has a gift for design, we built a new, beautiful store that serves our evolving operational needs with an updated and modern look. We moved in August 2018 and celebrated with the community with a huge grand opening party on Black Friday. Many people showed up to write and hang their favorite Mast Shoes memory on a timeline we made; to experience the new space; and to be part of our new chapter.
Like every business built on in-person services,
the pandemic brought challenges to just about every nook and cranny of Mast Shoes. As soon as we could reopen after the shutdown, we immediately implemented stringent safety procedures to protect our team and customers. To save our livelihoods, we needed to reopen and remain open. To keep ourselves and our customers healthy and safe, we needed new processes. Our customers have told us they appreciate that we limit capacity; provide socially-distanced seating areas; provide freshly laundered socks to try on shoes; and gently remind everyone to keep their masks on while they're in the store. They notice the total commitment of our entire team to making it a safe and enjoyable experience. We've gotten really good at hosting socially-distanced shopping. Customers have also appreciated our phone consultations, new online shoe refill shop and curbside pick-up options. Our team's adaptability, inventiveness and perseverance continue to be the key factors in getting Mast Shoes through the pandemic.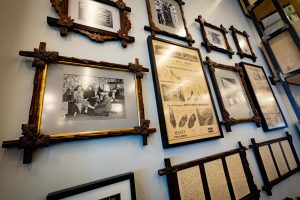 The changes the pandemic caused…
in consumer buying habits is likely to stay. Our new offerings position us to not only survive the pandemic but to thrive post-pandemic. We're always looking for effective, well-aligned ways to serve our customers and will continue evolving as we go. I predict that the shops and restaurants that can keep holding on and survive the pandemic will be busier than ever once we come out of it. 2021 will be another tough year but I'm very optimistic about 2022.
One last silver lining of the pandemic…
is that there seems to be a much greater public awareness of the need to shop locally. Local and national media have highlighted the struggles that so many independent retailers are trying to maneuver through. We're finding that our customers want to help us survive. Our community has shown up for us in so many supportive and touching ways – supplying us with fabric masks and gifting gift certificates to essential health care and grocery store workers just to name a few.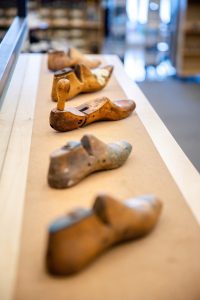 When Michigan reopened in June…
and everyone was getting used to the new ways of doing things and being in public, our team was consistently reenergized by the positive feedback, encouragement and kindness our customers generously offered. This period has been and continues to be very challenging, but it's also been a great time to strengthen the relationship we have with our customers.
MRA Member since: 1976
Owner: Molly Mast-Koss
Location: 2519 Jackson Ave., Ann Arbor, MI 48103
Opened: 1942
Specialty: Finding customers perfectly fitting shoes
MRA service: Workers' compensation
Does your business have a unique story? Contact rschrauben@retailers.com.
Story by RACHEL SCHRAUBEN
Photos by STEVE JESSMORE
[
READ MORE ARTICLES LIKE THIS
]