See why Lansing leaders and retailers want you to buy nearby
Flanked by a cake shaped like the Buy Nearby Guy mascot as well as one-of-a-kind jewelry designed at Linn & Owen Jewelers, James P. Hallan of the Michigan Retailers Association (MRA) today reminded shoppers that buying from retailers in their local communities means a chance to support new start- ups as well as retailers that have been a fixture for generations.
Linn & Owen Jewelers owner Stewart Powell hosted Hallan at his independent and locally owned jewelry store that has been in the heart of downtown Lansing since 1917. Hallan was joined by Lansing Mayor Virg Bernero, Lansing Convention & Visitors Bureau President Jack Schripsema, Whipped Bakery owner Randy Umfleet and Downtown Lansing Inc. Executive Director Mindy Biladeau, the Buy Nearby Guy mascot and other downtown retailers.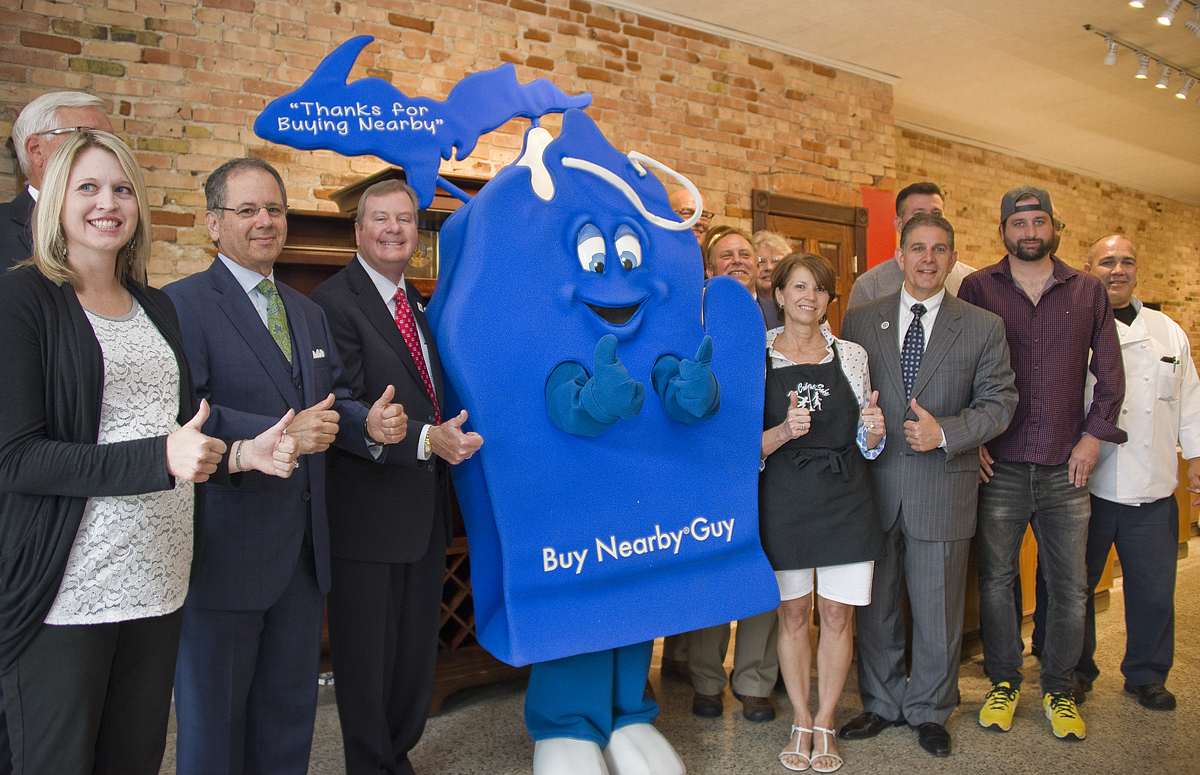 "Here in Lansing, boutique retailers such as Linn & Owen Jewelers, entrepreneurial startups such as For Crepe Sake and longtime retailers such as Whipped Bakery and Smith Floral are offering customers unique goods and services every day. Michigan communities benefit from having retailers that, in many cases, offer or use Michigan products. When shoppers buy from local businesses, it has a monumental impact on our state and communities." – MRA president and CEO Jim Hallan
He said the state economy would grow by more than $9 billion and nearly 75,000 new jobs would be created throughout the economy if Michigan residents made sure to buy from retailers in Michigan, rather than from out-of-state sellers that don't invest in the state. In the Lansing-East Lansing area, retail trade has grown by more than 400 jobs in the past year, according to Michigan's Labor Market News. More than 866,000 jobs statewide are directly dependent on retail sales.
Linn & Owen has been a mainstay of downtown Lansing for decades, and owner Powell and his staff do a brisk business offering rings, pendants, bracelets and brooches – many designed on the premises – as well as premier watches and clocks, and repair services.
"We like to support other retailers in downtown Lansing, and to let shoppers know how much good they do for Lansing and their community when they buy nearby." – Linn & Owen owner Stewart Powell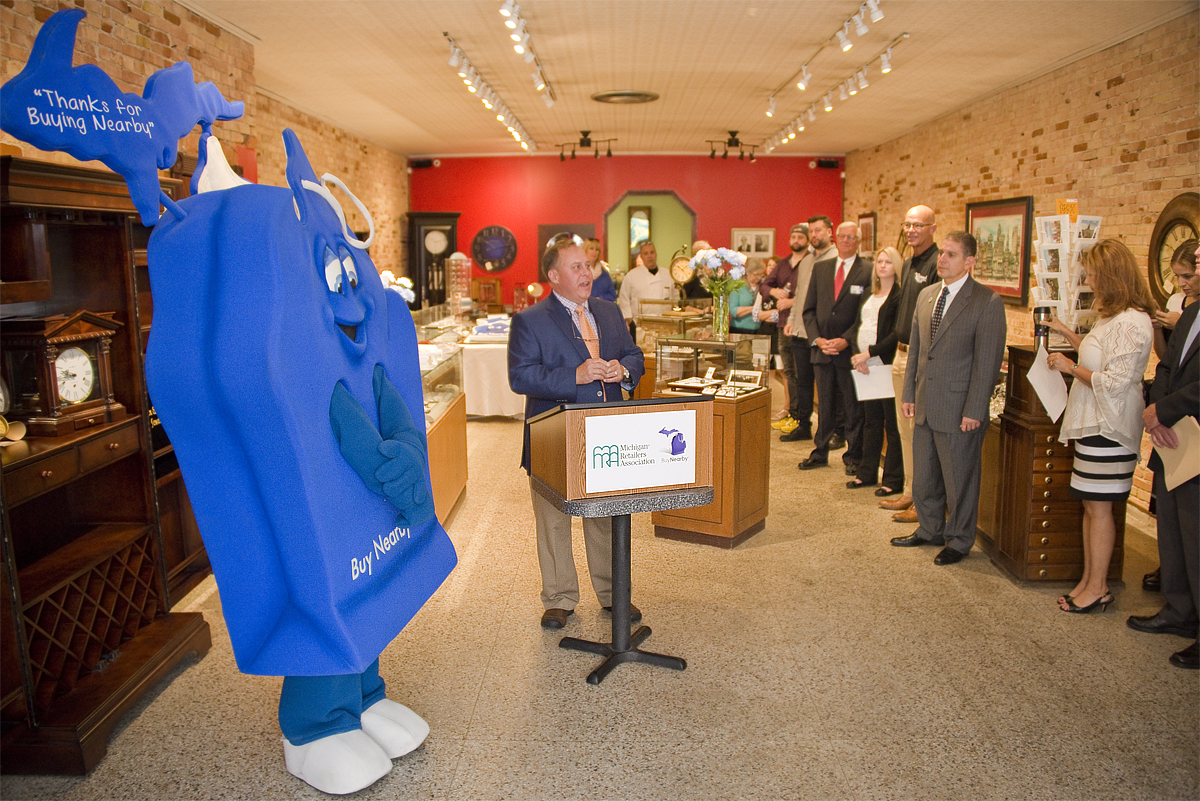 Also joining in the news conference was Lansing Mayor Virg Bernero. The mayor said Lansing's expanding entertainment and shopping options give Michigan shoppers a great reason to buy nearby, and noted that more retailers are opening in Lansing as new residents and workers move in.
"Lansing area retailers offer customers a personalized, hands-on experience that out-of-state online retailers just can't match," Bernero said. "Our businesses rely on dedicated customers who realize the value they offer and buy nearby because of it, and our community prospers when shoppers support the retailers who are part of it." – Lansing Mayor Virg Bernero
Randy Umfleet, owner of Whipped Bakery, created a special cake in the shape of Buy Nearby Guy, the campaign mascot that's an 8-foot-tall representation of a shopping bag in the shape of Michigan, colored blue to mirror Michigan's lakes and skies. Smith Floral, For Crepe Sake, and Glazed and Confused Bakery, three other Lansing businesses, provided blue-and-white flowers, crepes and donuts for the news conference.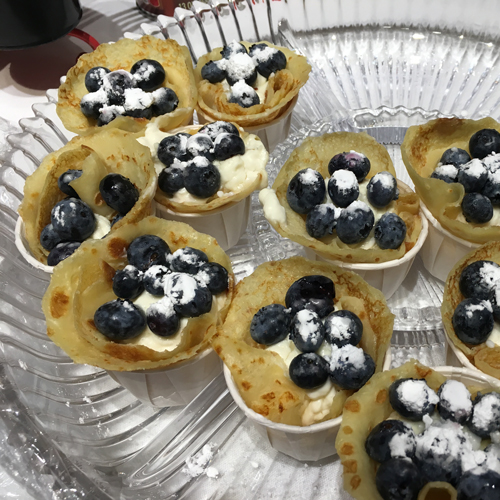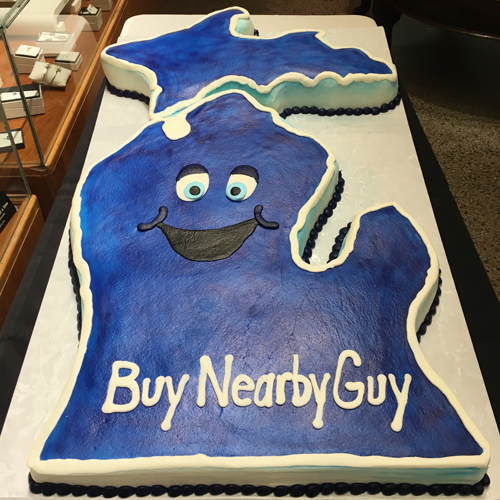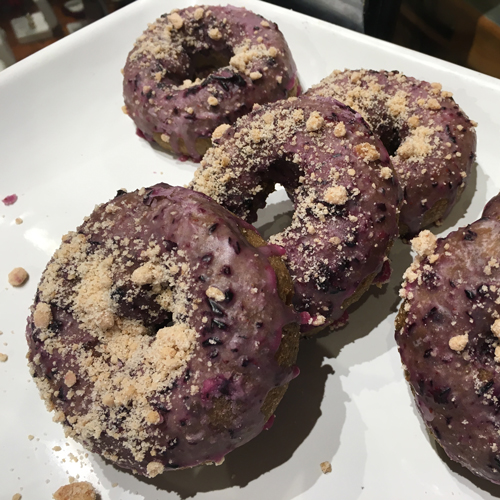 "We love to create special desserts baked from scratch for our customers," Umfleet said. "About half of every dollar spent in a Michigan store goes back into the local and Michigan economies, so buying nearby helps all of us." – Whipped Bakery owner Randy Umfleet
I BUY NEARBY WEEKEND
Michigan Department of Treasury figures show that retail trade accounted for $93.7 billion in economic activity in Michigan in fiscal year 2014, the most recent year available, not counting food and prescription drug purchases. That's a fifth of the state's gross domestic product, and a message that Buy Nearby Guy will be promoting in many communities leading up to I Buy Nearby Weekend on Oct. 1-2.
Buy Nearby's biggest promotion occurs this year on Oct. 1-2, when retailers across the state will be offering shoppers special deals and promotions during I Buy Nearby Weekend. The expanded two-day special shopping weekend will include a drawing for a $500 gift card for one lucky shopper who posts a photo of buying nearby with the hashtag #ibuynearby.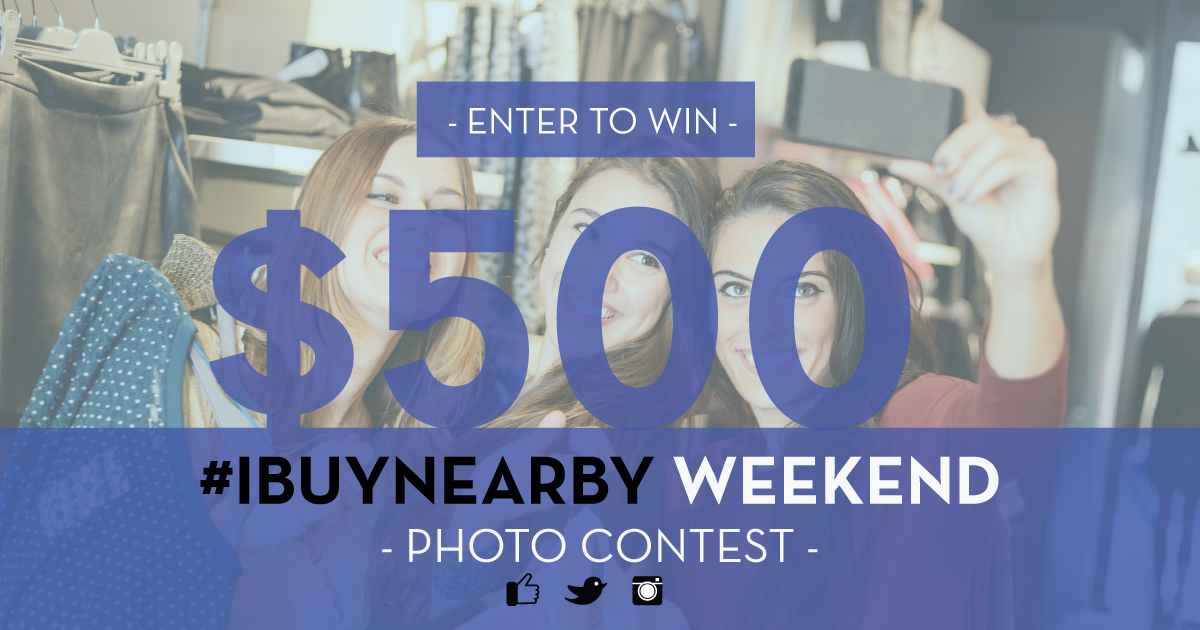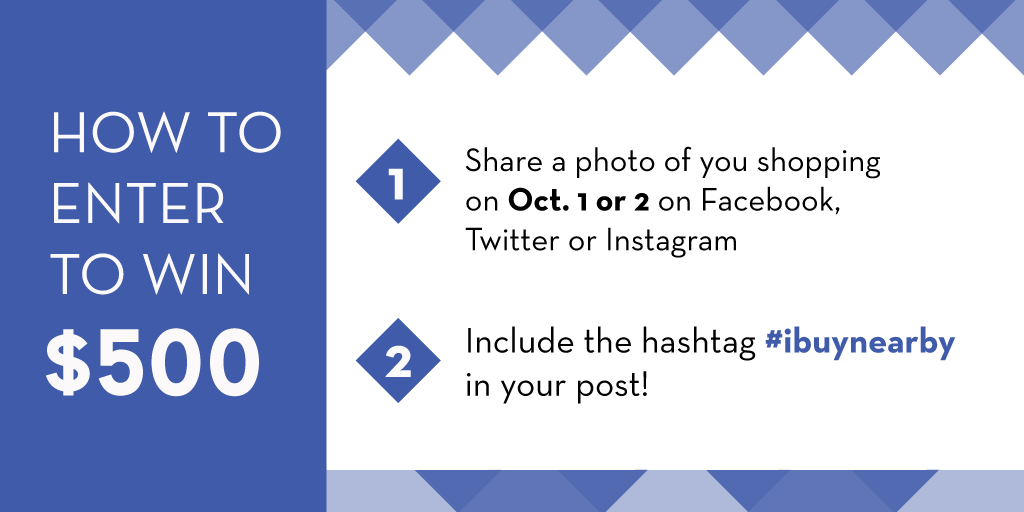 Stay up to date on Buy Nearby news by following it on Facebook, Twitter and Instagram!