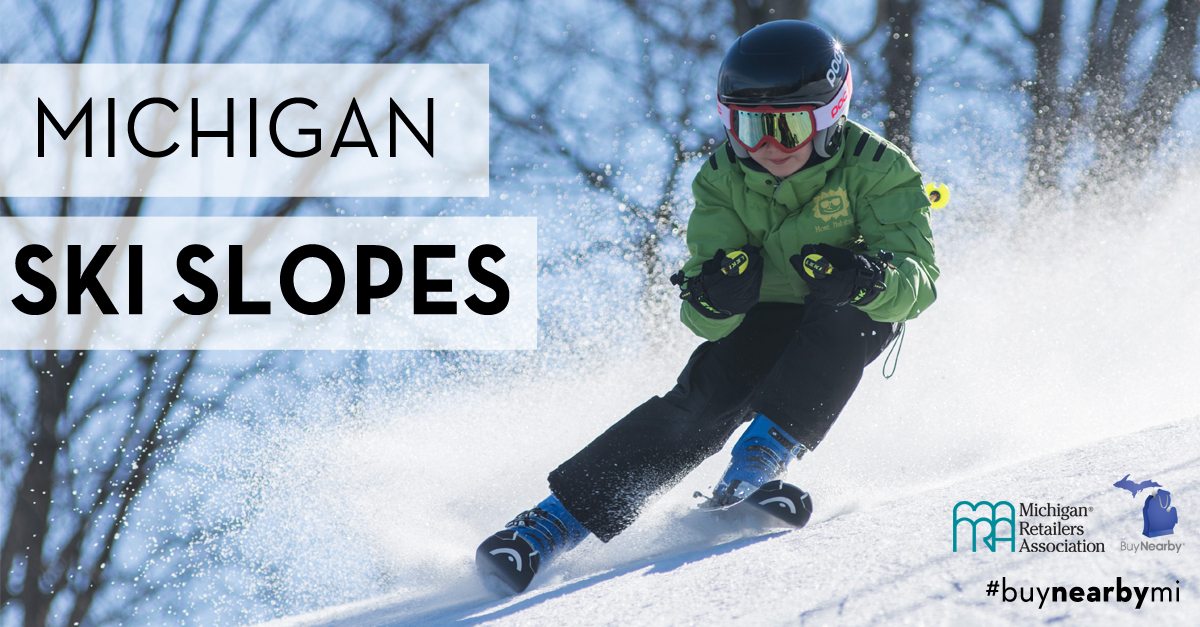 Buy Nearby and visit a Michigan ski slope
It's winter and it's cold.
Don't slip into the usual winter blues. With so many peaks and hills in Michigan, get out and Buy Nearby at a local Ski Resort!
Whether or not you're headed for the bunny hill, hop over to a slope near you for a wild winter adventure.
Treetops Resort
3962 Wilkinson Rd.
Gaylord, MI 49735
Located in the heart of the northern part of the lower peninsula, Treetops is a trip worth making. Start your morning early spending time on the slopes and give yourself time to relax with a soothing massage or mani/pedi at the Treetops Spa.
If you're not the skiing or snowboarding type, take your snowmobile out for a ride on the Gaylord-famous trails. With over 500 miles of crisp, clean, winding paths, they won't be hard to miss.
Treetops Resort offers year-wide activities for all ages. If you find yourself in Gaylord in the summer, be sure to tee off on one of the five lush courses Treetops offers.
Norway Mountain Resort
N2090 Briar Mountain Rd.
Norway, MI 49870
On the southwest side of the Upper Peninsula, Norway Mountain's 160+ acres of skiable land want skiers and snowboarders to have the rides of their lives. If you're unsure of your skill, attend the ski school and head to the slopes at your disposal.
At the end of the month on January 28th, Norway Mountain is holding a fundraiser called Ski for MS. Individuals who want to participate in the fundraiser have a choice of different types of races, including a cardboard box race!
Crystal Mountain Ski Resort
12500 Crystal Mountain Dr.
Thompsonville, MI 49683
This resort name alone promises beautiful, sparkling slopes. Crystal Mountain Ski Resort is not one to disappoint. With over 50 trails and slopes, you can curb your skiing or snowboarding hunger with ease.
If you're looking for the perfect venue to host your wedding, reunion or other celebration, don't overlook Crystal Mountain. If you need an outdoor or indoor space in the summer or winter, Crystal Mountain Resort has the answer.
Caberfae Peaks Ski Resort
1 Caberfae Lane
Cadillac, MI 49601
Located in the northeast area of the Manistee National Forest, this resort is the epitome of Pure Michigan. White trails and slopes, tall trees and curious wildlife are always close by.
New for winter 2017: a triple chairlift. With a complete 360-degree view, you'll have the best seat in the house.
Want to explore downtown? Cadillac has numerous clothing and gift shops perfect to #buynearbymi. Find great deals and hit one of the many restaurants Cadillac has to offer.
Cannonsburg Ski Area
6800 Cannonsburg Rd.
Belmont, MI 49317
A true hot-spot for mid-Michigan skiers and snowboarders, Cannonsburg can be the perfect daytrip for adventure seekers.
After recently celebrating its 50-year anniversary, Cannonsburg is ready to add to its rich history. With the newest addition of ziplines, guests can choose their experience. Whether you'll settle for the safe and slower zipline, or the taller, faster and longer one, you'll be gliding through the air with a smile on your face.

For an interactive map of the mentioned ski slopes in Michigan, visit: Buy Nearby Michigan Ski Slopes Interactive Map